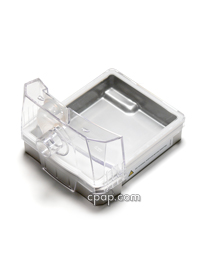 Heated Humidifier Overview
A heated humidifier uses heat to warm water in the humidifier chamber to produce moisture which is carried by the air you breathe. The heat level is adjustable to receive more or less moisture. The chamber used for a heated humidifier is much smaller than that for a passover humidifier. CPAP air can dry out your airway, which causes swelling and discomfort. Patients who use heated humidifiers have a much higher rate of therapy effectiveness with CPAP treatment.

Heated humidification can sometimes result in water in the tube, called rainout. There are many solutions for this problem and the benefits of heated humidifiers far outweigh the "tweaks" needed to ensure rainout does not occur.
Shop Now
Heated Humidifiers FAQs
Heated Humidifiers Video
More Videos
CPAP Users Say
CPAPtalk.com CPAP User Discussions
Did You Know?, Heated Humidifiers
The longer the hose, the more likely rainout is to occur.
Humidifiers add moisture to the air you breathe so your airways don't get dried out from the pressurized air.
The amount of humidification to your air will depend on your humidifier heat settings.
Distilled water is recommended for use in your humidifier as it has less minerals and may be more sanitary.
Heated Humidifiers Articles
CPAPtalk.com Wiki Articles
Research Articles
CPAP.com Newsletters
Top Heated Humidifiers
Top Heated Humidifiers by User Review
Top Heated Humidifiers by Sales
Top Heated Humidifiers by User Review
Top Heated Humidifiers by Sales