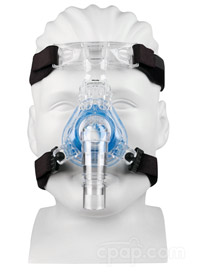 CPAP Mask Overview
A CPAP mask is the delivery system used to receive the air stream generated by the CPAP or BiPAP machine. The mask should be comfortable and seal completely without leaving red marks on the face. There are a wide variety of CPAP masks available in several different styles offering CPAP users many options from which to choose. Mask type categories are shown above.
Shop Now
CPAP Masks FAQs
CPAP Masks Video
More Videos
CPAP Users Say
CPAPtalk.com CPAP User Discussions
Did You Know?, CPAP Masks
If you are worried about sizing, select a mask with a fit pack so you know your size is in the bag!
Every mask is compatible with every machine.
CPAP.com offers over 70 different masks!
If you experience nasal irritation, consider alternating between your nasal pillow system and your nasal mask.
CPAP Masks Articles
Top CPAP Masks
Top CPAP Masks by User Review
Top CPAP Masks by User Review
Top CPAP Masks by Sales