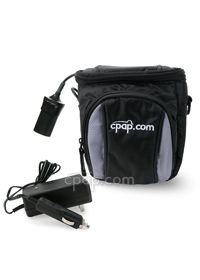 Power Solutions
Battery backups in CPAP therapy are used to travel or to run your machine in case of power outages. There are two main options for batteries: integrated battery backs and stand alone batteries. Integrated battery packs attached to your machine, power it for more than 8 hours and travel very well. Stand alone battery packs vary in size depending on the life of the battery. Many are travel friendly. Some machines require unique or custom power configurations. Check with us first!
Shop Now
Power Solutions FAQs
Power Solutions Video
More Videos
CPAP Users Say
CPAPtalk.com CPAP User Discussions
Did You Know?, Power Solutions
Portable CPAP batteries can power a machine for about eight hours before it must be recharged.
If your machine does not have the ability to directly hook up to a battery or dc power source, you can use an inverter or converter depending on your machine.
A typical rechargeable CPAP battery can power a CPAP machine for eight hours on average.
If your battery isn't holding the charge it should, it may be time to change the cell.
Power Solutions Articles
CPAPtalk.com Wiki Articles
Research Articles
Top Power Solutions
Top Power Solutions by User Review
Top Power Solutions by Sales
Top Power Solutions by User Review
Top Power Solutions by Sales