Home

/

AirAvant
AirAvant Medical Bongo Rx EPAP Starter Kit
---
Prescription required
Free Shipping
Order ships today if placed by 4PM CST
Need replacement parts & accessories?
Shop Now
AirAvant Medical Bongo EPAP Starter Kit
Overview
There's a new way to treat Obstructive Sleep Apnea! Bongo RX is an EPAP therapy device, a CPAP alternative using no tubes, masks, or a potentially noisy machine to treat mild to moderate sleep apnea. Upon inhalation, the valves in the Bongo RX open, allowing you to breathe in normally. When you exhale, the valves close, leaving a smaller outlet for the exhaled air to pass through, creating the pressure needed to keep your airway open for the next inhalation.
This revolutionary CPAP alternative treatment for Obstructive Sleep Apnea has been cleared by the FDA and is available by prescription only. The Bongo RX is a reusable device that's good for 90 days, lasting longer than other EPAP devices, and is intended to be cleaned and reused.
Looking for refills? Visit the Bongo RX Annual Pack page to get enough to last an entire year!
Features & Benefits
Maskless Sleep Apnea Treatment
Improves Mild to Moderate Sleep Apnea
Discreet and Portable—Take it Anywhere
Starter Pack Includes S, M, L, XL Sizes
FDA Cleared for Treating Mild to Moderate Sleep Apnea
Contains No Latex
Maskless Sleep Apnea Treatment
Are you tired of the red marks and the frustration of waking up with messy hair? Is the noise of CPAP therapy more than you can stand? Are you thinking about giving up with your treatment? If so, consider switching from a machine and mask to the Bongo RX. The Bongo RX is designed to turn exhaled breath into a way to treat sleep apnea.
Improves Mild to Moderate Sleep Apnea
In order to use this product, you'll need:
Mild (AHI of 5 to 15) or moderate (AHI of 15 to 30) sleep apnea
To be able to breathe only through the nose while sleeping
That's it! By getting your airway open, you'll feel better and have more energy during the day, as your sleep apnea symptoms get reduced.
Discreet and Portable—Take Anywhere!
The Bongo RX is small enough to fit in a jacket pocket and doesn't use any power, cords, tubes, or wires. It's designed to create a seal around the base of the nostril, and it makes very little noise. You can safely use it on a plane or take it with you when traveling.
Starter Pack Includes S, M, L, and XL Sizes
Don't know what size nose cones you'll need? The Starter Pack helps you figure out what you'll need going forward by providing nose cones in each size. After your first 90 days, you'll need to order the Annual Pack, which will provide a year's supply of nose cones in the selected size.
FDA Cleared for the Treatment of Mild to Moderate Sleep Apnea
The Bongo RX is a prescription-only device cleared by the FDA to treat mild to moderate sleep apnea. If you want to try it, you'll need to discuss with your doctor to see if it would be right for you.
Contains No Latex
Being mindful of those who have allergies, this product contains no latex and is designed to be hypoallergenic.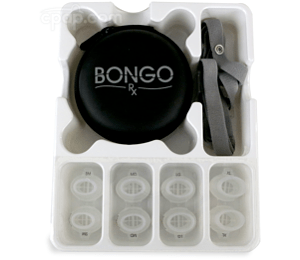 AirAvant Medical Bongo Rx EPAP Starter K...
---