Home

/

Nasal

/

Fisher & Paykel
Zest Q Nasal CPAP Mask with Headgear
BY Fisher & Paykel
Item #400444
---
Prescription required
Free Returns
Order ships today if placed by 4PM CST
Need replacement parts & accessories?
Shop Now
Product
Overview
The best features of Fisher & Paykel masks come together with an advanced air diffuser in the Zest Q. What does the "Q" stand for? Quiet. The enhancements to the air diffuser reduce partner disturbance and make the mask quieter yet.
The Zest Q builds on the success of the Zest Nasal CPAP Mask and has made an even quieter mask, so quiet they put a "Q" in the name!
Enhanced air diffuser
Quiet operation
FlexiFit technology
Glider strap
Headgear and strap release
Fisher & Paykel refined the design of the air diffuser to minimize the sound associated with exhalation. The changes to the air diffuser reduce partner disturbances making for a better night's sleep.
Unique to F&P masks, FlexiFit Technology offers an auto-contouring fit using a two-part cushion.The foam cushion provides support and contours to the face while the outer silicone cushion helps to prevent leaks.
The glider strap anti-leak system allows for freedom of movement and maintains the seal, even when turning from side to side.
The Zest Q headgear is designed to offer support and maintain a firm seal while still being comfortable. The glider clip strap release makes removing the mask easy and maintains the headgear adjustments. The headgear of the Zest Q is latex free, as are all other headgear by Fisher & Paykel.
Fisher & Paykel offers a version designed for women with a feminine headgear. To read more visit Lady Zest Q Nasal CPAP Mask with Headgear.
Fisher & Paykel offers assistance with this sizing guide: Zest, Zest Q and Lady Zest Q Sizing Guide.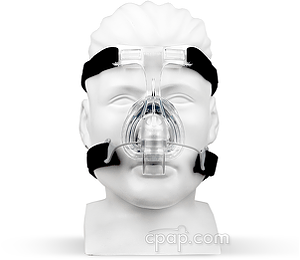 Zest Q Nasal CPAP Mask with Headgear
---