Take 15% off
your order of $200+ by subscribing!
Join Today!
Home

/

ResMed
Mirage Activa™ Nasal CPAP Mask Assembly Kit
---
Order ships today if placed by 4PM CST
Need replacement parts & accessories?
Shop Now
Mirage Activa™ Mask Assembly Kit
Overview
The first nasal mask with ActiveCell Technology . . . because active sleep demands an active seal! Do you move around a lot while sleeping? Does your mask tend to leak due to your frequent sleeping position changes? Then the Mirage Activa nasal mask may be the right mask for your sleep style.
ActiveCell Technology.
permits movement during sleep with less mask leakage. The ActiveCell Technology naturally adjusts to the different positions of sleepers who happen to move around a lot. It keeps you from having to over-tighten your headgear while it provides a great seal relieving discomfort while preventing aching sores from pressure points. It forms a bubble type seal which permits the frame of the mask to shift separately from the cushion. This assists in keeping the mask in place and sealed even while changing sleep positions.
Removable Cushion Clip.
is designed for quick mask cleaning.
One Touch Elbow.
allows for fast and simple removal of the air tube while wearing the mask.
Comfortable and Bendable Forehead Pads.
adapt to the shape of your forehead to provide a comfortable fit and quality seal.
Forehead Support.
adjusts in up to 4 different positions increasing stability and providing optimum comfort.
Headgear Quick Clips
allows for fast and convenient removal of the mask without the need to re-adjust the headgear.
This package DOES NOT include Headgear and Clips
. Headgear can be purchased separately
Headgear for the Mirage Activa™
, or along with the mask
Mirage Activa Nasal CPAP Mask with Headgear
.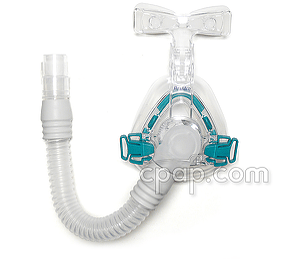 Mirage Activa™ Nasal CPAP Mask Assembly...
---