Take 15% off
your order of $200+ by subscribing!
Join Today!
Home

/

ResMed
Mirage Micro™ Nasal CPAP Mask Assembly Kit
---
Order ships today if placed by 4PM CST
Need replacement parts & accessories?
Shop Now
Mirage Micro™ Nasal CPAP Mask Assembly K
Overview
The Mirage Micro is ResMed's first nasal CPAP mask to utilize the MicroFit forehead support system. This innovative design features the Mirage dual-walled cushion and the MicroFit dial that offers 24 positions, providing a personalized fit for over 95% of all users.
Dual Cushion.
The cushion designed for an advanced seal that will conform to your face with movement.
Streamline Design.
The thinner design opens up the user's line of sight.
Improved Quiet Vent.
New refined air vent lowers noise by gently diffusing the air.
More Sizes.
The cushion comes in 5 sizes including Small.
Easy Cleaning.
This masks stream line design includes fewer mask parts for quick and easy cleaning.
MicroFit Dial.
The MicroFit dial allows CPAP users to find the right fit using 24 small incremental adjustments. The dual-wall cushion and forehead move in tandem as the dial is turned. This design is intended to address difficultly with "first time" fittings and ensure that is it not necessary to over tighten the mask's headgear.
Headgear Quick Clips
allows for fast and convenient removal of the mask without the need to re-adjust the headgear.
This package DOES NOT include Headgear
. Headgear can be purchased separately:
Headgear for the Mirage Micro™
, or along with the mask:
Mirage Micro™ Nasal CPAP Mask with Headgear
.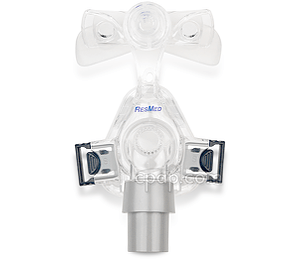 Mirage Micro™ Nasal CPAP Mask Assembly K...
---