Take 15% off
your order of $200+ by subscribing!
Join Today!
Home

/

ResMed
Mirage Vista™ Nasal CPAP Mask Assembly Kit
---
Order ships today if placed by 4PM CST
Need replacement parts & accessories?
Shop Now
Mirage Vista™ Nasal Assembly Kit
Overview
The Mirage Vista Nasal CPAP Mask is designed without a forehead support, reducing the overall contact to only the headgear and cushion. Users can wear the mask while reading or viewing television without the obstruction of a forehead support.
Two-Layer Cushion.
The mask features Mirage's dual layer cushion technology that uses two layers to achieve a comfortable, secure seal. The cushion is designed with an inner layer for support and stability. The outer layer is a softer silicone membrane that reduces mask leaks and helps prevent pressure sores. Once in use, the mask inflates and forms a seal with no need for over tightening the headgear. The cushion attaches to the frame without the need of a clip.
The One Snap 360 Elbow.
The mask includes a removable elbow that allows the user to detach the CPAP tubing without removing the mask. The elbow swivels a complete 360 degrees to minimize leaks and reduce headgear tension.
Compact Design.
Without a forehead support, this mask allows unlimited patient visibility for reading or watching television before going to sleep.
This package DOES NOT include Headgear
.
Headgear can be purchased separately, visit this page to view and order:
Mirage Vista™ Headgear
. The mask and headgear can be purchased together - view here:
Mirage Vista™ Nasal CPAP Mask with Headgear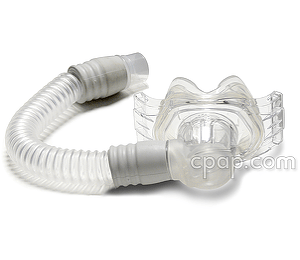 Mirage Vista™ Nasal CPAP Mask Assembly K...
---