Take 15% off
your order of $200+ by subscribing!
Join Today!
Home

/

ResMed
HumidAire H4i™ Heated Humidifier
---
Prescription required
Free Shipping
Order ships today if placed by 4PM CST
Need replacement parts & accessories?
Shop Now
HumidAire H4i Heated Humidifier
Overview
The HumidAire H4i™ Heated Humidifier by ResMed is compatible with the S8 line of machines. It features improved performance and capacity versus its predecessor, the H3i.
ResMed's HumidAire 4i is engineered to deliver 30% more heated humidification than the H3i. The humidifier is an integrated unit for use with ResMed S8 and S8 II series CPAP machines. The H4i Water Chamber has also increased in capacity up to 390 ml of water.
The HumidAire 4i provides relief from symptoms such as dry nose or mouth, irritation, and congestion sometimes related to CPAP therapy without jeopardizing performance or convenience.
Nasal CPAP users generally experience congestion and dryness of the nose and throat. The warm moist air that humidification provides has been proven to relieve symptoms of dryness and can make therapy more comfortable.
Fliptop lid design
- water chamber fills without removing the tubing.
Small design - unobtrusive on the nightstand and easy to pack for travel.
Seamless integrated unit - snaps onto the CPAP machine whenever needed.
390 ml capacity - very efficient humidification with a high volume.
Powered by ResMed S8 and S8 II Machines - no extra outlets or power supply necessary.
Simple Dial Control - easy to utilize in darkness and fast to respond.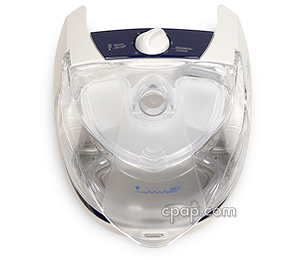 HumidAire H4i™ Heated Humidifier
---