Home

/

ResMed
ResMed Power Station II Battery Kit for AirStart™ 10, AirSense™ 10, and AirCurve™ 10 CPAP Machines
BY ResMed
Item #RESMED-AIRSENSE-AIRCURVE-10-BATTERY
---
Need replacement parts & accessories?
Shop Now
Product
Overview
Affected by the power outages in California? We're here to help. Give us a call to help make sure you can continue therapy.
The ResMed Power Station II Battery Kit for AirSense™ 10 & AirCurve™ 10 Machines by ResMed is a complete battery system which includes all necessary components to power an AirSense™ 10 or AirCurve™ 10 CPAP machine.
This product is not currently available for expedited shipping within the continental U.S. Regular ground shipping will be the only option. Other options may be available for non-continental U.S. residents.
The ResMed Power Station II Battery Kit for AirSense™ 10 & AirCurve™ 10 Machines is a lithium-ion battery designed to power a ResMed AirSense™ 10 or AirCurve™ 10 machine when AC power is not available. Please see the ResMed Battery/Device Compatibility and Run Time List for information on battery run time.
Features:
Lithium-ion Battery
Charges to 95% Capacity in Less Than Four Hours
Informative Charge Display
Meets IATA Transportation Regulations
Visual & Audible Recharge Alerts
Double Battery Option
Carry Bag
Fast Charging Lithium-ion Battery
The RPS II is a long-lasting lithium-ion battery that meets the IATA transportation regulations. The battery includes the PSU adapter needed for charging the battery with the External 90 Watt Power Supply for ResMed AirSense™ 10 and AirCurve™ 10 Series CPAP and BiPAP Machines. The battery itself does not come with a power supply, and instead uses the power supply of the CPAP machine. Charge time for a depleted battery to reach 95% using AC power is approximately 4 hours. The charge display of the RPS II shows the charge level of the battery and provides both a audio and visual alert indicating the charge is low.
Double Battery Option
The RPS offers the option to add an additional
RPS Battery Cell
for double the run time. The
Battery Coupler Kit for ResMed Power Station (RPS) II
is required to connect the two batteries together.
Carry Bag
The included carry bag with the RPS II is designed for accessibility. The bag will hold an additional battery cell if using the double configuration. An access panel allows the battery to be charged or used while inside the carry bag.
Compatible AirSense™ 10 & AirCurve™ 10 Machines
Please note: The included DC cable is not compatible with any other machines.
View More

+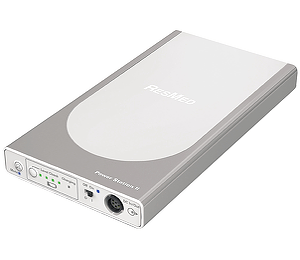 ResMed Power Station II Battery Kit for...