Home

/

Somnetics
Filter Frame for Transcend Travel Machines
BY Somnetics
Item #503071
---
Order ships today if placed by 4PM CST
Filter Frame for Transcend Machines
Overview
The Filter Frame for Transcend Travel Machines is the replacement frame which holds the filter for Transcend machines. This is the colored plastic tray that snaps onto the bottom of the machine.
This product is compatible with the Transcend Auto miniCPAP and the Transcend miniCPAP Machine. The filter frame is released from the machine body with the push of a button on the bottom front of the machine.
Earlier versions of the Transcend Travel CPAP machine used an Air Inlet Filter which had the filter permanently attached to the plastic frame. The plastic tray is released by pulling on a latch on the bottom of the frame in the older filter design. The earlier version can be veiwed here: Transcend Air Inlet Filter
This is the plastic frame only. This product does not include the filter. To view and order the filter visit : Filter for Transcend Travel Machines .
Please Note: This filter frame is not compatible with the Transcend 3. For the correct part, please see Transcend 3 Filter Assembly.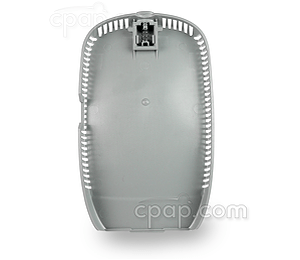 Filter Frame for Transcend Travel Machin...
---