On Monday, ResMed added two new additions to the AirFit line, a nasal and full face mask. What makes these AirFit™ masks so special, and how do you know which one you should try? Read on to learn more!
Learning the Differences
While all three of the masks have nearly identical names, you can remember which is which by using the letter in front of the "10".
N = Nasal
F = Full Face
P = Pillow (as in Nasal Pillow)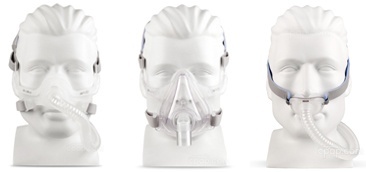 New! AirFit N10 Nasal Mask
The most interesting thing about the new N10 mask is the unique magnetic attachments of the headgear to the frame. At first blush, this might sound like an inadequate method for holding the mask together, but the magnets are surprisingly strong and the construction of the connection helps eliminate accidental detachment from active sleepers. Overall, the mask is remarkably light and typical of ResMed's usual design: sleek, minimal and forward thinking. We are eager to see what the reviews will say!
New! AirFit F10 Full Face Mask
The most attractive feature of the F10 is how light it is. Weighing in at under 3.3 ounces, this mask is the lightest full face mask ResMed has released to date. Like many recent offerings, this mask does not utilize a forehead support which is great if you enjoy reading or watching TV before bed. ResMed full face masks are typically the most popular and highest rated in this category, it will be interesting to see how users like this one. Best of all, though – this mask is priced well under other ResMed full face options.
AirFit P10 Nasal Pillow Mask
The P10 was launched in January of this year and is currently the #1 selling nasal pillow mask on CPAP.com. The lightweight design is a huge pinnacle of the mask, but users have mostly been raving about the quiet and gentle exhalation port. The unique style headgear doesn't allow for as many adjustments as a more traditional style, but many appreciate the trade off for a simpler, easily fit design.
Five Reasons to Try an AirFit™ Mask:
5. With AirFits™ in every mask type, you should be able to find one that suits your needs.
4. When you purchase an AirFit mask (or any ResMed mask) from CPAP.com, you can add a container of mask wipes to your order for just a penny! (Note: You will have the option to add the wipes after you add the item to your shopping cart.)
3. Your opinion matters! If you order an AirFit mask from CPAP.com, you will be able to write a review for the mask that many other users will be able to read and learn from.
2. All masks are available in For Her options. So men and women can each get the size they need.
1. Each of the AirFit™ masks come with Free Return Insurance when you buy from CPAP.com. This means if you don't like it, you can return it for the purchase price within 30 days.