The best CPAP masks for your sleeping style and personal comfort preferences may not be the same as another's preferred design – and that's ok. The important thing to remember is that the right CPAP mask for you will encourage you to follow through on your CPAP treatment. If you've been diagnosed with Sleep Apnea and are in the process of being outfitted with a CPAP device, deciding on a CPAP mask style and brand is an important step. Before we jump into a discussion of the best CPAP masks on the market today, it's important we discuss a very important topic: how you sleep.
First of all, before you can choose a CPAP mask that works for you, it's important to know exactly how you sleep. It's important to make the distinction between how you'd like to sleep versus how you actually sleep. For choosing a mask, you need to go with a mask that reflects how you actually sleep, not how you'd like to sleep.
If you breathe through the mouth, a full-face mask might be the best. If you breathe through your nose, a nasal pillow or a nasal mask might be the way to go. If you breathe through your mouth, you could use a nasal mask or a nasal pillow if you use a chinstrap. Depending on your personal preferences, you may like this or you may not. Knowing how you sleep is absolutely critical to deciding which CPAP mask to get. How do you find out? Ask a spouse or sleeping partner, or pay attention to things like whether or not you have a dry mouth in the morning (which could mean you breathe through the mouth). Once you know how you sleep, it's important to know the differences in the types of CPAP masks available. Let's dive in!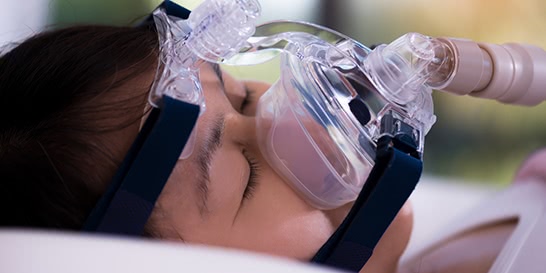 Types of CPAP Masks
There are three main types of CPAP masks: the nasal mask, nasal pillow mask, and full face mask. You'll want to decide which type works best for your unique physiology and sleeping style, but keep these basics in mind.
Nasal CPAP masks deliver more natural airflow than nasal pillows, as the entire mask acts as a conduit for therapy air instead of the two small seals at the base of each nostril used in a nasal pillow. This results in less direct air flow and that can improve comfort. Keep in mind, though, that nasal masks aren't generally well-suited to mouth breathers, unless a chin strap is used to keep your mouth in place.
Nasal pillow CPAP masks are quite popular today, as they are minimalist in design and are great for those who like to wear the mask while watching TV or reading in bed. The small overall size tends to remain out of the user's peripheral vision. If you're active and toss and turn a lot throughout the night, a nasal pillow is a great choice.
A full face CPAP mask is a great catch-all solution for those who require serious airflow and tend to breathe through both their mouth and nose. Sleep Apnea sufferers with allergies or sinus issues tend to like the full-face mask design, and many patients report that they feel less claustrophobic when using this type of CPAP mask. In my therapy, I use a full face mask. At night, I tend to breathe through my nose until I fall asleep. Then I'm breathing through my mouth all night long. So for me, a full face mask is the best option. I find that the seal works great, as long as I keep the straps tight.
Now that we've discussed the three basic types of CPAP masks, let's examine the five best CPAP masks and discuss the benefits of each.
The 5 Best CPAP Masks of 2018
AirFit P10 & P10 for Her Nasal Pillow CPAP Mask by ResMed
Price: Around $100
If the ultimate in quiet operation is a priority for you, there isn't much better on the market today than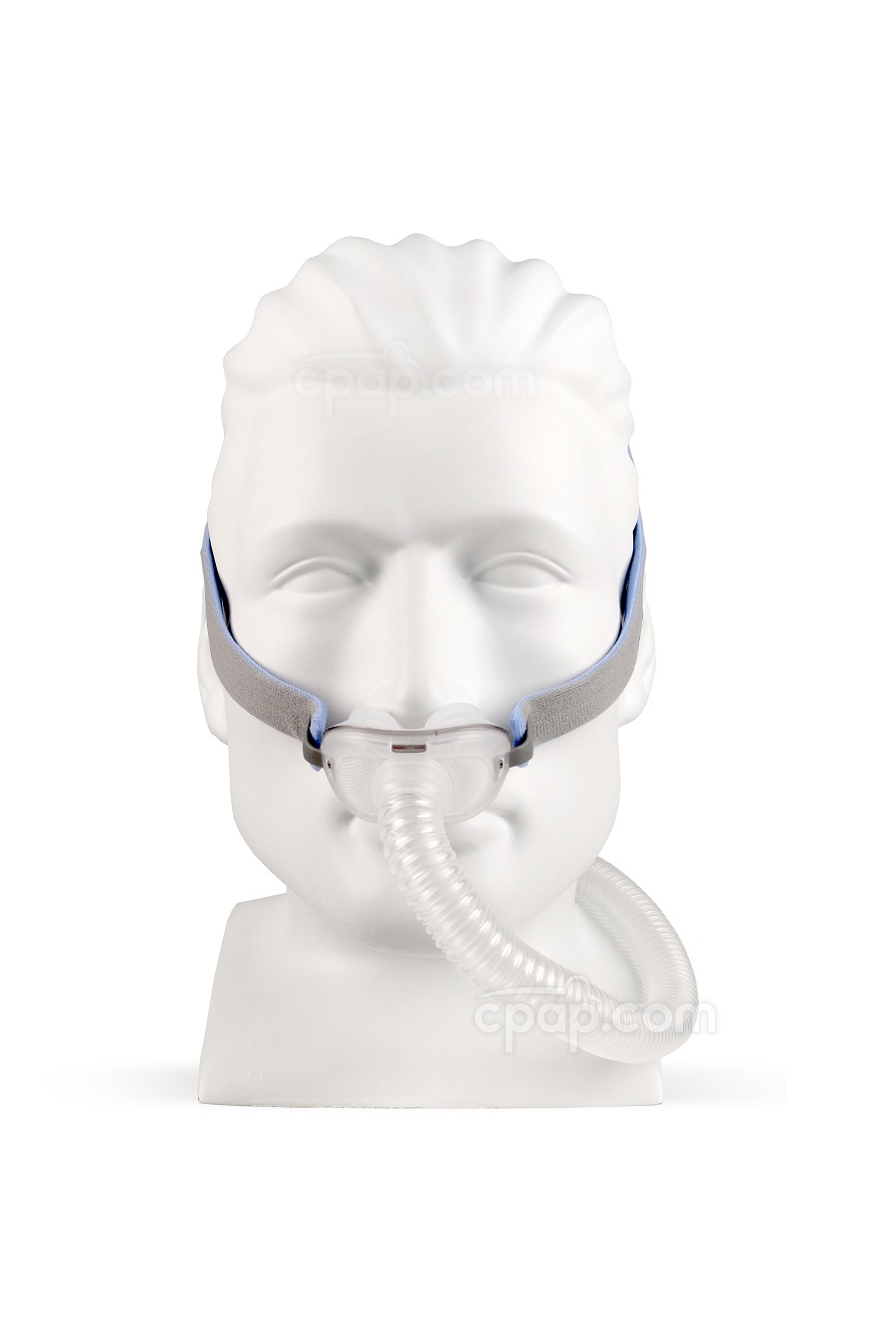 the AirFit P10 Nasal Pillow CPAP Mask. It is 50% quieter than the Swift FX, which is already a silent system itself. A lightweight and simple design works well for those who move around a lot at night, and the flexible nasal pillows and QuickFit elastic headgear deliver comfortable operation and a stellar fit. A unique feature with the P10 line is the AirFit P10 For Her Nasal Pillow CPAP Mask. This option is custom-designed for the unique physiological needs of women. Both nasal pillow CPAP masks provide air directly to each nostril for easier breathing during sleep.
Swift FX Nasal Pillow CPAP Mask by ResMed
Price: Around $100
The Swift FX Nasal Pillow CPAP Mask is ultra-quiet comfort, offers adjustable and flexible pillows, and even comes in a model designed specifically for women. The soft fleece backing on the silicone headgear keeps the unit in place, while the way the entire unit fits the wearer's face almost makes it feel like the CPAP mask isn't there.
ComfortGel Blue Nasal CPAP Mask by Philips Respironics
Price: Around $35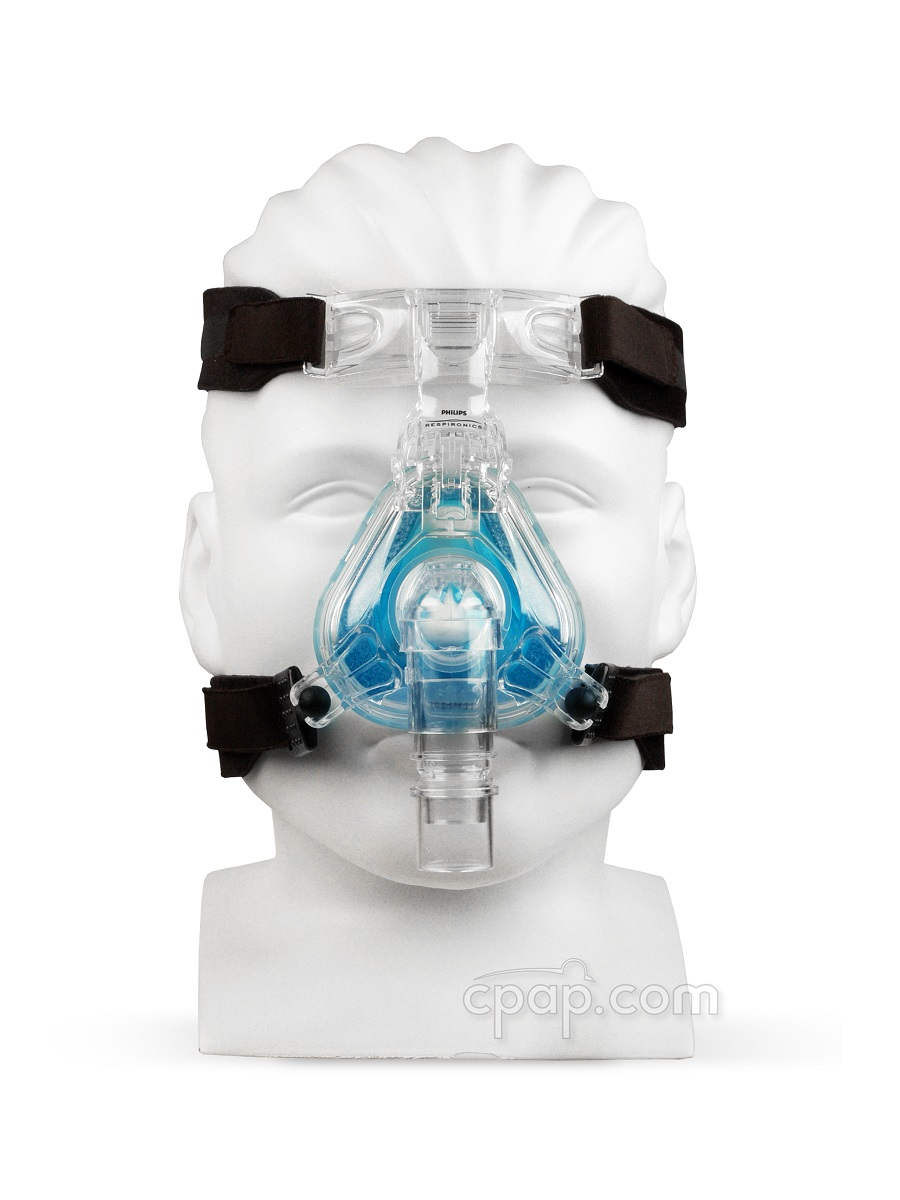 The ComfortGel Blue Nasal CPAP Mask delivers serious comfort thanks to the improved gel cushion technology used throughout. A combination of a gel cushion and a silicone flap system improves performance and enhances comfort at the same time. Premium forehead pads and high-quality headgear keep the unit in place with ease, and the System One Resistance Control feature ensures reliable pressure when used with a variety of CPAP systems. Many people go with the ComfortGet Blue Nasal CPAP Mask because of the low price, and the mask doesn't disappoint.
DreamWear Nasal CPAP Mask by Philips Respironics
Price: Around $100
Philips Respironics is a leader in CPAP equipment, and their DreamWear series of nasal CPAP masks are comfortable, ergonomic and effective. The DreamWear Nasal CPAP Mask offers a top-mount CPAP hose, which minimizes hose contact with the face and keeps nighttime interruptions to a minimum. The mask uses a tube-style frame for superior comfort and sealing effect, while the fully adjustable nasal cushions and headgear ensures a custom fit. This mask is great for back sleepers, too. The DreamWear family of CPAP masks also comes in Full Face and Nasal Pillow versions, so this is truly a mask that every CPAP user can enjoy.
Brevida Nasal Pillow CPAP Mask by Fisher & Paykel
Price: Around $100
The Brevida Nasal Pillow CPAP Mask is a relative newcomer to the CPAP mask market, and a lot of people are excited about it. It's a mask that features comfortable, low-profile nasal pillows, that are designed for minimal contact with the face. It includes cushions of several different sizes of cushions, so that no matter what size nose you have, there's a comfortable cushion for you. It also comes with easily adjustable headgear. Because good CPAP mask care requires disassembling the mask from time to time for cleaning, the Brevida has all the connection points color-coded, so that you can easily put it back together. The Brevida Nasal Pillow CPAP Mask also makes use of so-called "short tube" design, which gives the wearer more flexibility and freedom of movement.
Honorable Mention CPAP Masks:
The recommended models above represent a sampling of some of the best CPAP masks available today. They are reliable, simple, comfortable, and effective, and they are compatible with virtually any CPAP machine on the market right now. Get more information about CPAP masks and browse our extensive selection of available units and cost savings today.
Want to take a deeper dive into CPAP masks? We've written a comprehensive guide that answers most of your questions regarding CPAP masks. We'll introduce the different types of masks, and answer many of the most common questions.
For the latest news, information, and deals about everything CPAP, sign up for the CPAP.com newsletter!
Daniela has researched and published over 60 articles covering topics that aim to inform and empower people living with Sleep Apnea. As an avid reader and researcher, Daniela continues to grow her knowledge about Sleep Apnea and CPAP therapy everyday with the help of coworkers, CPAP.com customers, and members of other CPAP communities online.