The IntelliPAP 2 AutoAdjust CPAP is the redesigned model of the widely popular IntelliPAP machines. The IntelliPAP 2 without humidifier is 5.9 in W x 6.1 in L x 3.7 in H  and weighs 1.93 lbs.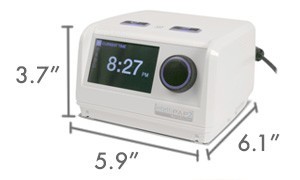 The machine has a large, colorful display for easy viewing and navigation of menus, and functions as a clock with an alarm clock setting. The IntelliPAP 2 AutoAdjust CPAP will display AHI, leak data, and usage information on-screen. A Smartcode can also be viewed on the machine's display to be entered online to generate a therapy data report.
SmartFlex pressure relief helps promote a more comfortable breathing pattern by reducing pressure on exhalation and has adjustable rounding to customize the transition between exhalation to inhalation.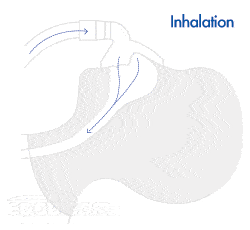 Benefits of the IntelliPAP 2
The IntelliPAP 2 AutoAdjust CPAP features:
・Connectivity to the Smartlink App using built-in bluetooth.
・Auto On/Off to start or stop the machine when the mask is put on or taken off.
・Regular notifications to change filters and clean equipment.
・The IntelliPAP 2 has PureView AutoAdjust Algorithm to identify and treat different respiratory events as they happen while automatically adjusting pressure during the night.

Optional Pulse Dose Heated Humidifier
The humidifier is integrated and connects directly to the bottom of the machine, helping maintain a smaller footprint on the nightstand. Pulse dose is an innovative take on humidification. Moisture is delivered during inhalation only, and during exhalation the humidifier is bypassed, allowing dry air to clear the tube. This process helps eliminate rainout, without a heated tube. Also, water in the chamber will last longer, virtually ensuring a full nights worth of moisture.
A standard heated humidifier without Pulse Dose technology is also available if desired.
To help you make sense of CPAP and APAP machines like this one, we've created a comprehensive resource about CPAP machines. There you'll find information about CPAP devices and features to help you as you journey towards CPAP success!
Get Yours Today!
To purchase the IntelliPAP 2 AutoAdjust CPAP, call us at 800-356-5221. If you're still undecided which machine is right for you, read our latest guide to the best CPAP machines!