A while back we introduced you to the AirFit™ CPAP Masks by ResMed and highlighted the P10's lightweight design and quiet exhalation port. Now, we have the honor to share with you a firsthand account of a CPAP user who recently purchased an AirFit™ P10 Nasal Pillow CPAP Mask from CPAP.com.
An Oasis In the Desert
By: Samuel, CA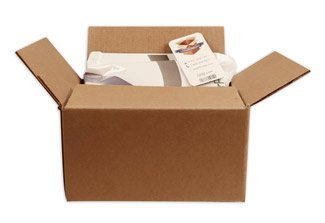 The package arrived. I opened it with ambivalence. What will it be? A part of me hung to a tiny bit of hope that perhaps this might indeed be the CPAP mask I've been searching for.
But a bigger part of me grows weary of the empty promises of pretty packaging, the ship of hope crashing onto the rocks of leaky masks, pinching straps, and poor fit. Can I take another disappointment? Is my heart strong enough to continue to hope.
I opened the box. I looked at the tiny straps, the minimalist design. My heart sank a little. My mind cried, "Is that it?" Well at least I have return insurance.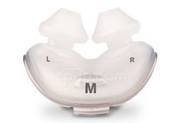 The small place in the human heart that holds out hope even in despair opened the package. There were no adjustments to make. No velcro. No complicated set-up. The mask even has "r" for right and "l" for left imprinted on the pillow. This can't possibly work.
I hooked it to the machine. With trepidation I slipped the mask over my head and placed the pillow. It was as if I had been released from a cave. The darkness lifted and sunlight entered. It was a revelation. It was the moment the Scherzo of Beethoven's 5th resolves gloriously into the Finale. It was that moment when the mystery resolves, the pieces are fitted.
I was tangled in a web of false promises and empty hope and suddenly life made sense again. Colors stood a little brighter, food tasted a little better. I now know what it is to dance. TO DANCE! "THIS", I cried to my long suffering wife, "is what a nasal pillow mask is meant to be!" At least that is what I meant to say, but I had forgotten to take it off.
To sum up, I love this mask. It is the best I have ever used.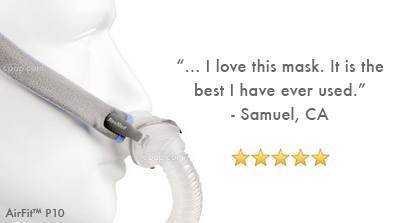 A big thanks to Samuel for sharing his experience with us! Please remember to submit your product reviews and help other CPAP users ease into therapy.  And, if you are searching for the perfect mask, remember that return insurance provides 30 days for you to try a mask and return it for any reason for a refund of the price of the mask.
To learn more about the AirFit™ P10 visit CPAP.com.