A CPAP hose or tube might seem like a simple thing. But, hoses are becoming more detailed as advancements in comfort features and technology are made in CPAP therapy.
A CPAP hose is the tube used to deliver airflow from point A to point B. It can be used to connect:
1) A machine or humidifier to a mask

Length: 4, 6, 8, or 10 foot
Standard / Performance
Heated
A non-heated hose is smooth on the inside. It may be used with several types of machines. Tip: Try this quiet,

6 Foot Hose with Rubber Ends

. It will hardly make any noise as you move.

A heated hose contains copper coils that conduct heat. Most are specific to a machine. Also available is the

ComfortLine Heated Tubing Kit

– a stand alone option that fits most machines which use a standard hose.

Tip: As air in your hose cools, moisture is released and condensation occurs. Rainout, or the accumulation of water inside your hose, can be reduced with the help of a heated hose.
2) A machine to a humidifier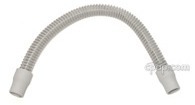 Length: 18 or 24 inches
This hose connects a machine to a stand alone humidifier. Learn more about humidification.
3) A mask to a longer hose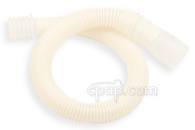 Length: 18 inches
Lightweight hoses – like the SleepWeaver Feather Weight Tube – are more flexible and pull less on the mask.
Specs
The internal diameter of a hose impacts the delivery of the prescribed pressure. The internal diameter for standard hoses measures 19mm versus 15mm for thin or slim style hoses. Slim hoses are only compatible with select machines, so please verify that your machine has a 15mm, Thin or SlimLine™ setting. Click here to view all thin hoses.
The hose cuff is the end part which connects to the machine, humidifier, or mask. A hose can have rubber ends (soft) or stability ends (hard). All hoses have a 22mm connection cuff and fit on all CPAP masks.

Tip: Most hoses have a single cuff or connector. But, you can add supplemental oxygen to the air stream of your CPAP machine.You can use ResMed's hose with a built-in supplemental oxygen connector with your S9 series or AirSense™ 10 and AirCurve™ 10 ResMed machines. Or you can use the Oxygen Enrichment Adapter which is compatible with all hoses.
Care
There are several tools you can use to keep your hose bacteria free. You should aim at washing your hose each morning with warm water and mild soap or shampoo, and allow hose to air dry.

A hose can last up to a year if it has been cleaned properly. Replace the hose if cracked, punctured, or torn; look for mold or mineral deposits inside the hose. Also, over time soft cuffs can become stretched out and easily fall off a machine or mask.
Hose Management
Avoid getting tangled up in your hose by using a suspension system or placing it behind the headboard.

We're Here to Help!
Email us at CPAP@CPAP.com or call 1.800.356.5221 between 8 AM – 8 PM CST Monday through Friday or 8 AM – 5 PM CST Saturday and Sunday.