When using a nasal or nasal pillow CPAP mask, your mouth needs to stay closed during the night to experience all the CPAP therapy benefits. An open mouth means your therapy air will leak, and you'll wake up with a dry mouth or throat. To keep your mouth closed while you catch some zzz's, many people turn to a chinstrap as a solution.
A chinstrap is a flexible elastic strap that covers the bottom of your chin and the top of your head, producing just enough tension to keep your mouth closed.
We've done our homework and handpicked the three best chinstraps on the market today!
The Best CPAP Chinstraps of 2020
Let's explore our picks for the best chinstraps on the market!
Editor's Pick: LifeSource Ruby-Style Adjustable Chinstrap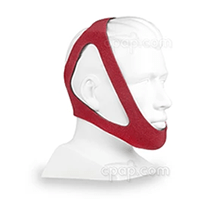 Comes in Two Sizes and Includes an Extension Strap to Provide You With a Comfortable Fit

Uses Two Velcro Adjustment Points

Hypoallergenic and Latex-Free
Designed to fit multiple head shapes and sizes, the Ruby-Style Adjustable Chinstrap uses two velcro adjustment points—on the side and back of your head, making it a truly universal design.
The strap can be ordered in one of two different sizes. The standard size is suitable for anyone with a head that has a vertical circumference of 25 to 30 inches. The extra-large size is intended for anyone who has a head with a vertical circumference of 30 to 33 inches.
If you struggle to keep your mouth closed at night, the Ruby-Style Adjustable Chinstrap gives you the ability to use a nasal or nasal pillow mask with a leak-free fit while also keeping your mouth closed and your airway hydrated. It's a win-win for anyone looking for the ultimate chinstrap.
Best for CPAP Users: Knightsbridge Dual-Band Chinstrap
Perfect if You're Struggling With a Traditional Chinstrap

Breathable Mesh Cap so You Won't Get Too Hot

Stops Mask Leaks and Improve Your CPAP Therapy

Multiple Sizes: Small, Medium, Large, and Extra Large for Your Ideal Comfortable Fit
If you've tried other chinstraps and continue to struggle with mask leaks, that's where the Knightsbridge Dual-Band Chinstrap comes in, which uses one elastic band and a non-elastic strap. This two-banded design provides extra support to your jaw and can succeed where other chinstraps fail.
Both straps are anchored by a breathable mesh cap, designed to keep you from getting too hot while you're wearing it. Just slip the cap over your head and adjust the straps until it is comfortable. This chinstrap does include latex in its design, meaning if you have an allergy, then try the Ruby-Style Adjustable Chinstrap instead.
Most Comfortable: Philips Respironics Premium Chinstrap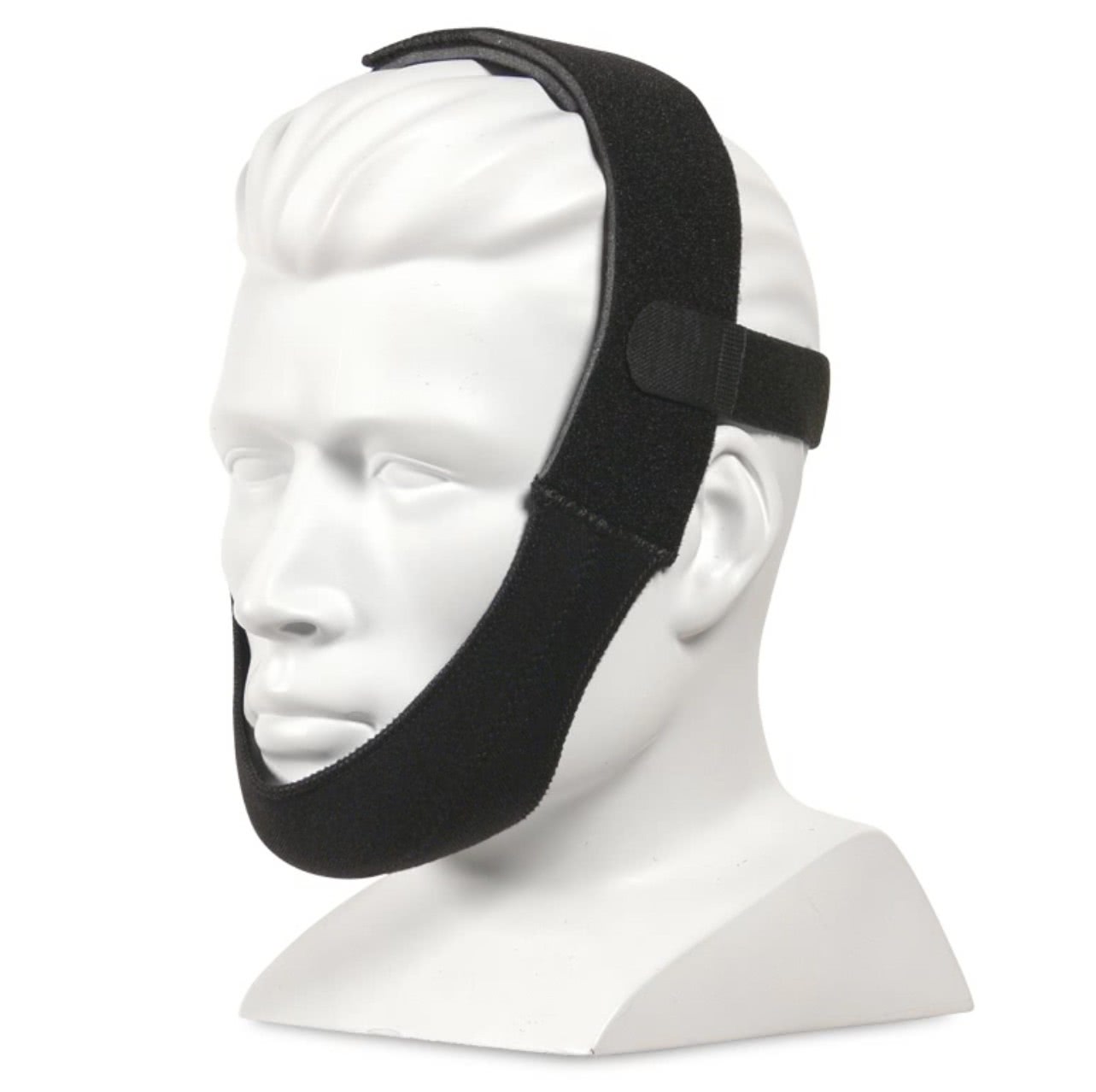 Simple Two-Part Design Is Easy to Use

Comfortably Supports the Chin

Adjustable Headstrap Fits Almost Every Head

Reliably Helps Keep the Mouth Closed
The Philips Respironics Premium Chinstrap is one of the most comfortable and reliable chinstraps on the market today. It's well-loved thanks to its ability to keep the mouth closed during the night. Its design provides the right amount of tension while not being overbearing. It's soft to the touch and even gentler on the skin. You'll also appreciate that the Premium Chinstrap uses minimal parts, adapting easily to many different head shapes and sizes so you'll always have the perfect fit.
How to Shop for a CPAP Chinstrap
Breathing through your nose is recommended by doctors and sleep technologists because the nose filters out small particles and bacteria while also warming the air and adding humidity.
While utilizing CPAP therapy, the nose acts as the conduit for the pressurized air. If you open your mouth during sleep, valuable therapy air is lost and treatment can be ineffective.
Using a chinstrap is a solution for stopping mouth leak during sleep. Chinstraps make nasal and nasal pillow masks more effective by keeping your mouth closed.
CPAP Chinstrap Design Features
Chinstraps come in many different shapes and sizes, and despite the wide array of manufacturers and brands, chinstraps often have similar designs and features.
Here are some of the most common chinstrap design features:
Standard Chinstraps

use side straps that measure about an inch thick and connect to a chin guard that's around three inches thick. Chin guard designs feature plush soft fabric such as cotton or polyester. The side straps go over the top of your head to anchor everything together, making it a durable and solid design that can stand the test of time.

The Stability Strap Chinstrap

is similar to the standard model but also has an additional strap that goes over the crown of your head through a hook-and-loop closure. It's a simple design, which allows for a complete range of motion and even gives you the ability to speak clearly while wearing the chinstrap!

The Dual-Band Chinstrap

uses a mesh cap to hold the two distinct chinstraps to help keep your mouth closed. The first strap is made of regular elastic while the second is designed for stability and isn't as flexible as the elastic strap. By using two main straps instead of one, you will find that the extra support helps improve your CPAP therapy.

Headgear Chinstraps

don't wrap around your head at all. Instead, headgear chinstraps use special loop-and-hook attachments to connect to your mask headgear to provide the additional support.
CPAP Chinstrap Considerations
When it comes to choosing a chinstrap, you need to also take into consideration how it fits and how it's adjusted.
Here are some considerations to take into account when finding your ideal chinstrap:
Sizing:

When finding the correct size, ensure that the straps on your chinstrap are long enough to keep your mouth secured. The goal of a chinstrap is to support the mouth so that it stays closed in a comfortable and relaxed position.

Closure:

Many chinstraps use a loop-and-hook closure to keep the chinstrap in position, but there are also models that use buckles or velcro.

Chin Guard:

Most designs feature chin guards that are soft and designed to support the chin without sacrificing comfort

Budget:

All of the models on our list are less than $30, which grants them a place in the budget-friendly category!
Chinstraps are your CPAP therapy ally when it comes to encouraging nasal breathing and keeping you from breathing from your mouth. Breathing from your nose helps to increase your immunity, trigger your relaxation response, so you can fall into a deeper sleep and adhere to your CPAP therapy. Find your perfect CPAP chinstrap to encourage the sweetest dreams ahead!