When it comes to falling asleep, each person is unique. Some people prefer absolute silence while others like to hear sounds from nature or the city when it's time to drift off to dreamland. If that sounds like you, you'll be pleased to know that the sound options are endless!
If you use a phone playlist each night, the repetition of sounds in the same sequence will actually end up keeping you awake. Eventually, you'll memorize and begin to anticipate certain sounds in the playlist, preventing you from falling asleep. Using a white noise sound machine or a nature sound machine is the best solution because it generates a constant stream of noise that never loops or repeats the same sound twice in a row. This way, you won't memorize the pattern, and it will continue to be effective!
Here are our picks for the best sound machines:
Editor's Pick: Sound + Sleep High Fidelity Sound Machine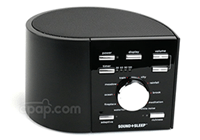 Choose From Ten Different Sounds Paired With Three Variations per Sound
Play All Night or Set a Timer for Up to 120 Minutes
No Repetition of the Same Sound Sequence
Take control of your sleep environment—the Sound + Sleep High Fidelity Sound Machine is a long-standing fan favorite. With the High Fidelity Sound Machine, you can choose from ten different sounds including ocean, city, brook, and train sounds. Each sound has varying complexity levels for hours of non-looping custom sound.
Ideal For:
Budget-Friendly Shoppers
Anyone Interested in Relaxing Nature Sounds Versus White Noise
Best Value: LectroFan White Noise Sound Machine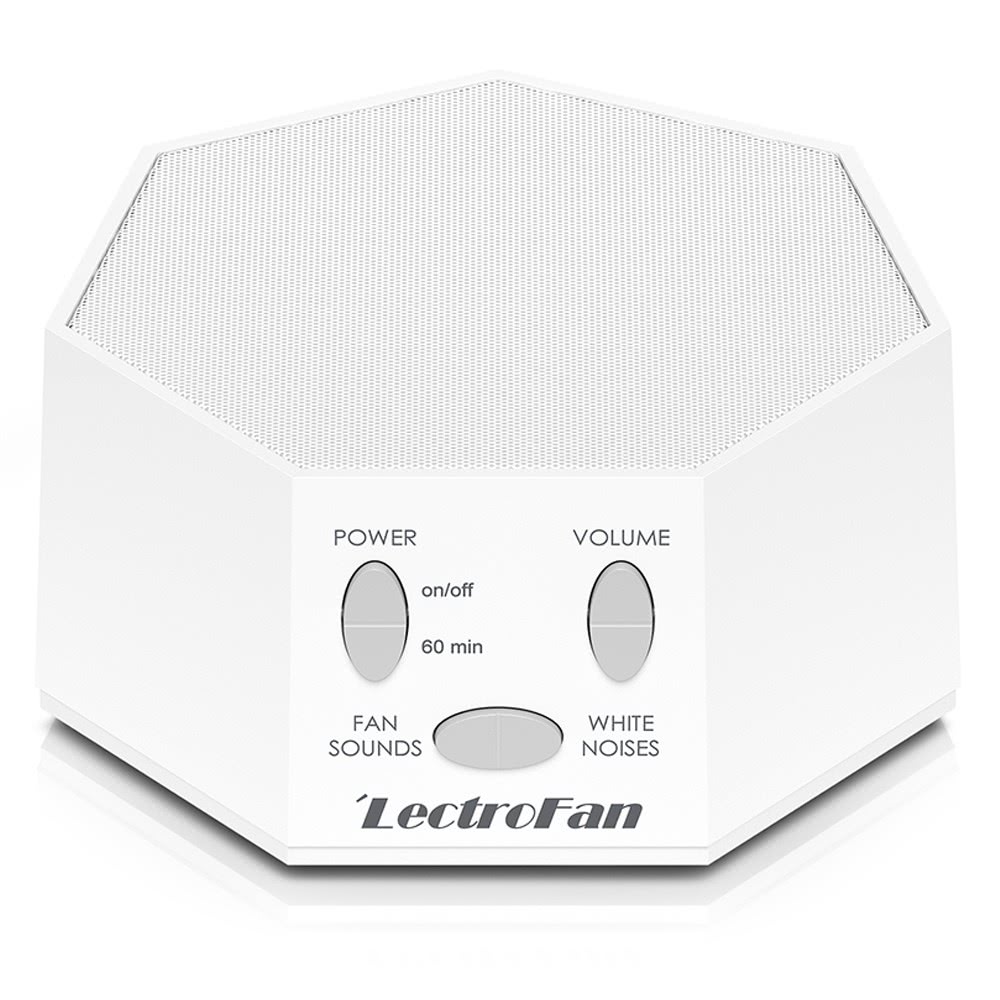 Listen to Ten Different Fan or White Noise Sounds
Non-Looping Sounds to Fall Asleep With Ease
Choose From White, Pink, or Brown Noise
Do you like to listen to the sound of a fan while you fall asleep? Or do you enjoy listening to white, pink, or brown noise? If so, the LectroFan White Noise Sound Machine is for you! The LectroFan generates non-looping white noise or plain fan sounds, giving you the ability to fall asleep comfortably.
Ideal For:
Budget-Friendly Shoppers
Anyone Who Likes the Sound of a Fan or White Noise
Most Versatile: Sound + Sleep SE Premium Sound Machine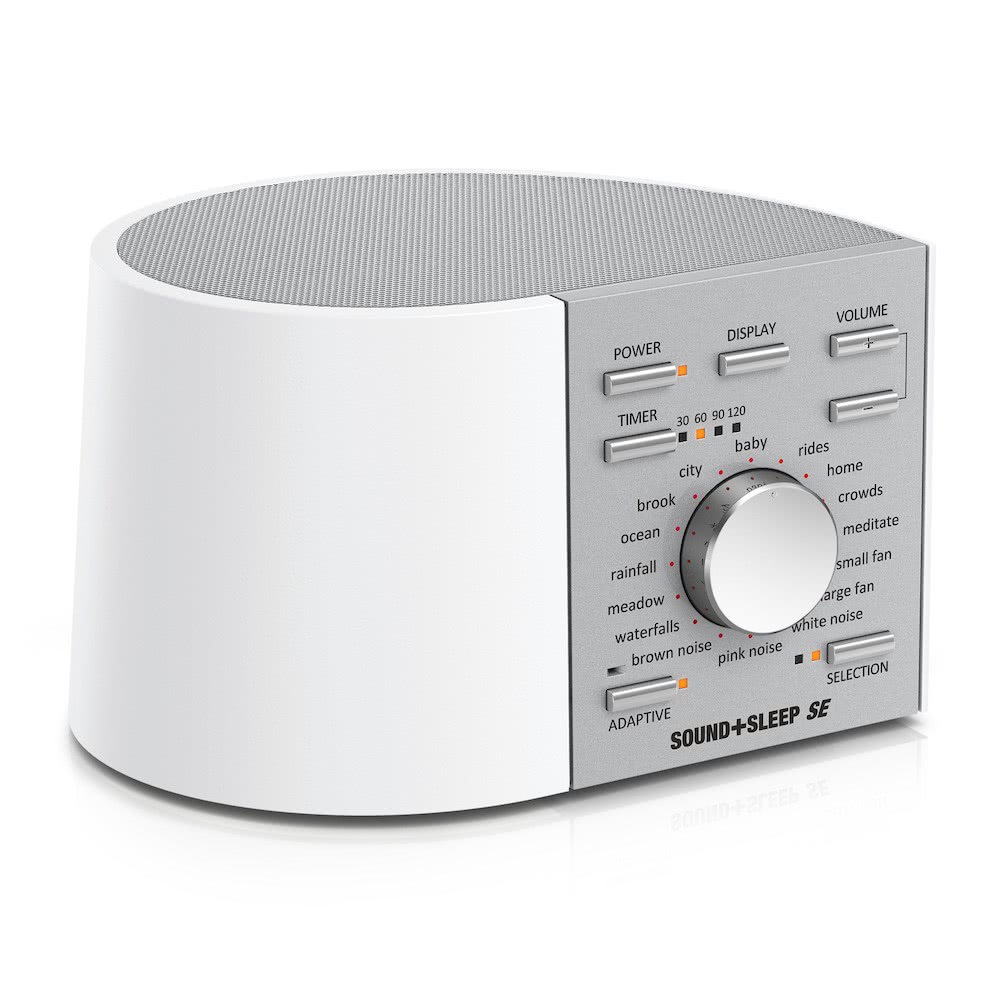 A Wide Range of Sounds
Sound Options for Babies and Children
Non-Looping Sounds
The Sound + Sleep SE Premium Sound Machine includes sounds ideal for babies and children while also including a wide range of white noise sounds, serving a wider range of audiences. The SE Premium Sound Machine features city, ocean, rainfall, meditate, fan, and white, pink, or brown noise. These sounds are all non-looping, meaning you won't hear the same sound sequence twice. Sleep as you please—you can set a timer or have the sounds play all night long.
Ideal For:
Wide Audience Range: Babies to Children to Adults
Anyone Wanting Sound Options Galore
Most Advanced: Hatch Rest Plus (Rest+) Baby Sound Machine and Night Light
Control With Your Phone or With Your Voice Through Alexa
Baby-Friendly: Two-Way Talking Capabilities to Talk to Your Baby From Another Room
Is a Night Light, Alarm Clock, Baby Monitor, and Sound Machine in One
Time-to-Rise Feature for Child Sleep Training
The Hatch Rest Plus Baby Sound Machine and Night Light builds on the Hatch Rest Baby Sound Machine by adding the capability of Alexa, clock, backup battery, wifi, and an audio baby monitor in one smart device. You can adjust the colors, lighting, and volume all from your SmartPhone or from Alexa. If you're trying to get your child on a schedule, you can set the colors at certain times to let your child know when it's time to wake up and get out of bed. If your baby is fussy and needs to hear your voice, you can hear and talk to them all from the Hatch Rest Plus! This sound machine has a variety of sounds from nature sounds to white noise to music and lullabies.
Ideal For: 
Children of All Ages
Parents Who Want a Sound Machine That Can Do It All: Sound, Night Light, Baby Monitor, Two-Way Talking, and Set Sleep/Wake Times
Anyone Looking for a Sound Machine With SmartPhone and Alexa Capabilities
---
How to Shop for a White Noise Machine
First things first—in order to choose your perfect sound machine, let's figure out your dreamiest setup. You'll want to know how you like to sleep in order to choose the perfect sound machine.
Here are some questions to ask yourself when finding your ideal sound machine:
Do you prefer nature sounds or white noise?
Do you like to sleep with fan sounds?
If you like both depending on the night, give the Sound + Sleep SE Premium Sound Machine a try!
White Noise Machines
When it comes to your sound machine, the choice between white, pink, or brown noise is yours!
Let's define each type of noise:
White Noise: White noise can be best described as the "snow" from an off-air channel on an old black-and-white TV, the sound of a waterfall, or pouring rain. It's the noise that's spread across the sound spectrum, producing low-frequency, mid-range, and high-frequency sounds.
Pink Noise: Pink noise is a white noise variant with louder low-frequency sounds and softer high-frequency sounds. It is a more gentle sound and isn't as intense as white noise.
Brown Noise: Brown noise sounds are like the ocean's rolling surf and completely eliminate the high-frequency noise while amplifying low-frequency sounds.
As you can see, each type of noise is unique and covers different ends of the sound spectrum.
The LectroFan is a classic example of a white noise sound machine that generates non-looping fan or white, pink, or brown sounds.
Nature Sound Machines
Nature sound machines provide a mix of noises like a babbling brook, meadow, or ocean while also including a mix of man-made sounds like city or train sounds if that's what you prefer.
Like white noise sound machines, nature sound machines produce non-repeating, non-looping sounds that help you fall asleep faster. Both types of sound machines can be programmed to shut off after a period of time or can run all night long, making them a great addition to your nightly routine.
---
Finding the right kind of noise for you is a critical part of creating the perfect environment for sleep. Whether you choose a white noise sound machine or a nature sound machine, you're setting yourself up for sweet dreams ahead.
David Repasky has been using CPAP treatment since 2017 and has first-hand experience with what it's like to live with Sleep Apnea. He brings the patient's perspective to the CPAP.com blog and has received formal training in CPAP machines, masks, and equipment.