Post updated on January 21, 2019
CPAP machines are the least-invasive way to treat Sleep Apnea. Have you heard of APAP machines? These automatic devices can choose the best pressure for you, while you sleep, without needing you to manually change the pressure. For this reason, many people love APAPs. But when it comes to CPAP vs APAP, which one is better? Let's find out!
What is an APAP Machine?
An APAP is a type of sleep apnea machine that can automatically adjust to the correct pressure while you sleep. This way, if things change and you need a higher pressure, the machine automatically adjusts without needing input from you.
They're sometimes referred to as "Self Adjusting CPAPs," or "Automatic Titrating Positive Airway Pressure" devices. In the sleep health industry, they're commonly referred to as APAPs or Auto CPAPs.
As an additional resource, we've put together a comprehensive guide to CPAP machines. It's a comprehensive guide that helps you make sense of all the options and features when picking a new machine, getting you on a path to finding the right CPAP machine for you.
What's the difference between CPAP and APAP?
The main difference between APAP and CPAP is how the air pressure is chosen. CPAP machines are at a fixed pressure, while APAPs adjust to a different pressure automatically.
Continuous Positive Airway Pressure or CPAP therapy has been the long-standing leader in Sleep Apnea treatment. These machines deliver a continuous, steady stream of pressurized air that keeps your airways from collapsing and causing apnea events. The air pressure delivered from both the APAP and CPAP machines functions as a splint, delivering a continuous stream of pressurized air to prevent your throat from collapsing in on itself.
The continuous, pressurized air helps Sleep Apnea sufferers breathe freely through the night, which can lead to a good night's rest.
So if they both do roughly the same thing, why would you need an APAP? Why do you need the extra sophistication?
The pressure that's right for you today may not be the right pressure for you tomorrow. As time passes, our bodies change. For therapy to be successful, you'll need to increase or decrease the pressure of the machine periodically.
After a CPAP titration study, your sleep technician and doctor determine the proper amount of pressurized air you need to keep your airways clear of obstructions and set your machine to that number. Your sleep test results are sent away to a sleep lab, and the results are analyzed, and then you would take your machine in to be set to the new pressure.
Depending on your lifestyle, and the changes you go through in a year, or even in a night, you may need to adjust the pressure several times during the course of your treatment. It's far less hassle to use an APAP machine, and have a device that automatically adjusts to the pressure you need. It's these auto CPAP settings that make APAP machines so valuable.
Why APAP May Be Better For You
So which is a better fit for you: a CPAP or an APAP? Here are some things to consider:
You can use it as a CPAP if you want. Most APAP machines can also be set to a straight CPAP mode, allowing you to discover which titration therapy works best for you.
If your breathing changes in the night, you're covered. Most patients don't have the same breathing patterns throughout the night due to a variety of reasons, and an APAP helps you adjust.
You might catch a cold during flu season. If you suffer from a cold or allergies, your airways become congested and breathing is more difficult. Colds and flu happen to everyone, and it's nice to have a machine that can adjust automatically if you're more congested.
Your body is likely to change. Changes in your health such as weight loss/gain can require different settings, and an APAP will automatically make those adjustments.
In the end, it's all about comfort! If you want to make sure someone uses the therapy, they need to be comfortable. APAPs simply make for a more comfortable way to treat Sleep Apnea by automatically adjusting to what a person needs.
Possible Downsides to Choosing an APAP Machine
There are a few downsides to using APAPs that are worth mentioning:
Cost. We've mentioned it before, and it's worth mentioning again. The cost of these machines can be as much as $300 more than what you'd pay for a CPAP machine. For a lot of people, it's a small price to pay for the comfort and convenience of an APAP machine, but for some, the cost of an APAP is a huge barrier.
Pressure adjustments can sometimes be slower. In some situations, the pressure adjustment can be a little slower than you'd need. For example, if you're laying on your side and happen to roll over onto your back, it may take a period of time for your machine to catch up. It eventually will, but you need to understand the pressure adjustment won't necessarily be immediate.
If these drawbacks aren't enough to sway you away from wanting an APAP machine, you may be interested in looking at some of our most popular APAP machines below:
Why Our Customers Love Auto CPAP Better Than CPAP Machines!
If you want to find some of the best APAP machines on the market today, we've collected a group of APAP machine reviews that you may find helpful as you shop for your first or next machine.
Resmed AirSense 10 AutoSet
The AirSense 10 AutoSet CPAP Machine with HumidAir Heated Humidifier builds on the reliable and advanced features of the S9 line and adds a built-in HumidAir™ humidifier, all in a sleek design that is 23% lighter.
The AirSense 10 AutoSet (AutoSet is ResMed's name for the auto-adjusting feature), is one of our most popular APAP machines, and people seem to like it a lot more than the CPAP version.
Main Benefits:
Built-In Heated Humidifier – Included in the Cost
Color LCD Display
Optional Heated Hose
One of the Quietest APAPs on the Market Today
"This CPAP is smaller, quieter and has more & better features than my last CPAP. The auto-sense works so much better than I expected. My former machine was set at 9- but my auto sense took me to 13.4! The auto humidity (combined with the heated tube) is really great as well- I used to get dried out and sneeze half the day. Best sleep I've had in years."
Why Do Our Customers Love This Machine?
Most of our customers choose this machine over many other APAPs due to the built-in heated humidifier, which is a great freebie on such a premium device. Many customers also appreciate ResMed's quality and see this machine as a great home (or travel) unit.
Resmed AirMini
The AirMini AutoSet Portable Travel CPAP Machine is the smallest ResMed machine available today, weighing only 0.66 pounds. This small CPAP uses a 20W power supply to further minimize the size of the travel unit.
Pair the machine with the AirMini by ResMed smartphone app to track your therapy progress and adjust machine settings. The AirMini is not available as a CPAP, but many people have made this their favorite travel APAP machine.
Main Benefits
One of the Most Lightweight and Compact APAPs on the Market
FAA Compliant
Waterless Humidification System
AirMini Mobile App
"Truly teeny, light in weight and quiet, unlike anything else on the market. Great Bluetooth connection to phone or tablet through a unique app, and perfect for throwing in a carry on or backpack, this is a no-compromise solution that makes traveling with a CPAP significantly easier. Highly recommend."
Why Do Our Customers Love This Machine?
In the travel category, this is one of the hottest machines on the market, and it's easy to see why. The machine is small enough to almost fit into the palm of your hand, and it can go almost anywhere. For many people that have the AirSense 10 as a home machine, the AirMini is the travel machine of choice.
Z1 Auto Travel CPAP Machine
At 6 1/2 inches long and 10 ounces, the Z1 Auto Travel CPAP Machine is one of the lightest APAP machines available. It is small in size, yet big in comfort. Advanced features such as Z-Breathe exhalation relief and Nitelog data can be viewed on smartphones and tablets, making the Z1 Auto a great option for home and travel.
Main Benefits:
Great Travel Machine
Tiny Size
Ramp Feature
Exhalation Relief
"My home machine is the Resmed S9. It works great, but I travel frequently and wanted to leave my home machine set up. With the Z1, I now have a machine I can go backpacking with for four nights away from power (I bought two batteries) and I can land in a foreign country and check into a hotel without fiddling with power for my CPAP. If you need something you can travel or camp with, or if you simply want a very small CPAP, this is a good machine to consider!"
Why Do Our Customers Love This Machine?
The Z1 is a little less expensive than the AirMini and it's also pretty efficient on energy consumption. The Z1 and the AirMini are about the same size, but the Z1 costs a lot less, and for this reason, it's still popular and one of our most popular APAPs.
Fisher & Paykel ICON Auto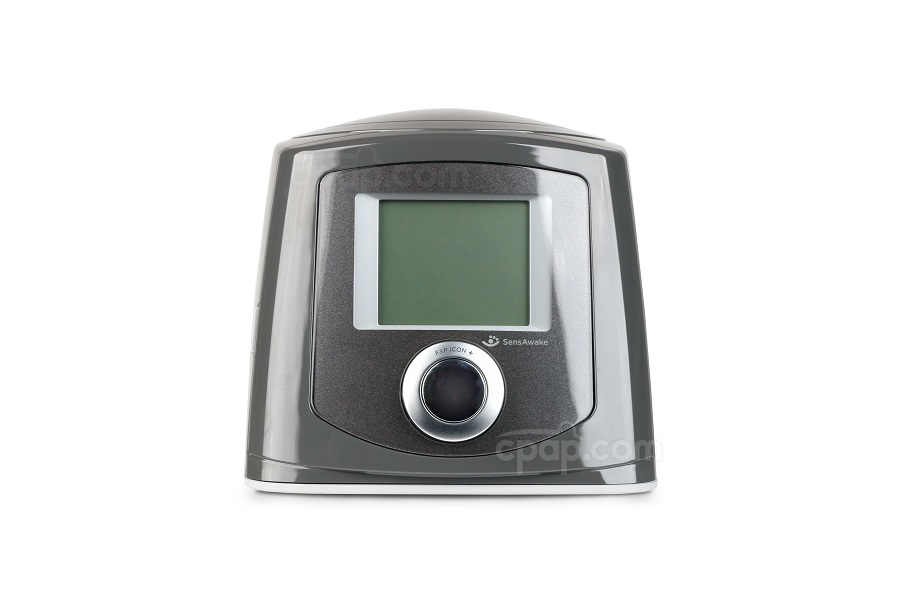 The ICON Auto CPAP Machine with Built-In Heated Humidifier and ThermoSmart Heated Hose by Fisher and Paykel takes features from older F&Pthe SleepStyle line of CPAP machines and combines them to enhance patient comfort and provide a personalized treatment system. ThermoSmart Technology makes Fisher & Paykel a leader in humidification.
Main Benefits:
Heated Hose
Smart, Auto-Adjusting Algorithm
Small, Compact Design
Built-In Heated Humidifier
"This machine is SO quiet. My wife has fallen in love with it because she can sleep with it working, she doesn't hear a thing from it! I would order the same again."
Why Do Our Customers Love This Machine?
Our customers love this machine because it's stylish, compact, and has a smart auto-adjusting pressure algorithm. Many customers also found it to be very quiet.
Philips Respironics DreamStation Auto
The DreamStation Auto CPAP Machine is a sleek, user-friendly APAP machine from Philips Respironics. The machine has multiple advanced features such as Bluetooth connectivity, SmartRamp, and OptiStart. Also available is the optional DreamStation Heated Humidifier to increase comfort by adding heat and moisture to therapy air.
Main Benefits:
Turns on Automatically
Ramp Feature Slowly Builds Up to Full Pressure
Color LCD Screen Provides Helpful Sleep Data
CPAP Mode Available if Needed
"I have had my last CPAP for seven years. It has performed tirelessly. This new unit is lighter, smaller and very quiet. Its automatic adjustment to any mask leaks is remarkable. Excellent product. I am very pleased with it."
Why Do Our Customers Love This Machine?
The DreamStation Auto is a superior quality machine. When you use it, all you have to do is press one button and it works, without needing to do anything else. It's also one of the quietest machines on the market today.
As you can tell, APAP patients enjoy the customized pressure of their machines!
Daniela has researched and published over 60 articles covering topics that aim to inform and empower people living with Sleep Apnea. As an avid reader and researcher, Daniela continues to grow her knowledge about Sleep Apnea and CPAP therapy everyday with the help of coworkers, CPAP.com customers, and members of other CPAP communities online.