Full face CPAP masks supply therapy air to the mouth and the nose. It is one of the three main types of sleep apnea masks used for CPAP and BiPAP machines.
Full Face CPAP Masks cover your mouth and nose, making them ideal for:
Mouth Breathers During Sleep
Those With Nasal Congestion or a Deviated Septum
Those Who Require High-Pressure Settings
Difficulties Using a CPAP Chin Strap
Full Face Mask Drawbacks:
Not Facial Hair Friendly
Bulky
Over-the-Nose Masks Can Be Difficult for Side or Stomach Sleepers
Some Full Face Masks Make It Hard to Read or Watch T.V.
Comparing CPAP Full Face Masks to Other CPAP Masks: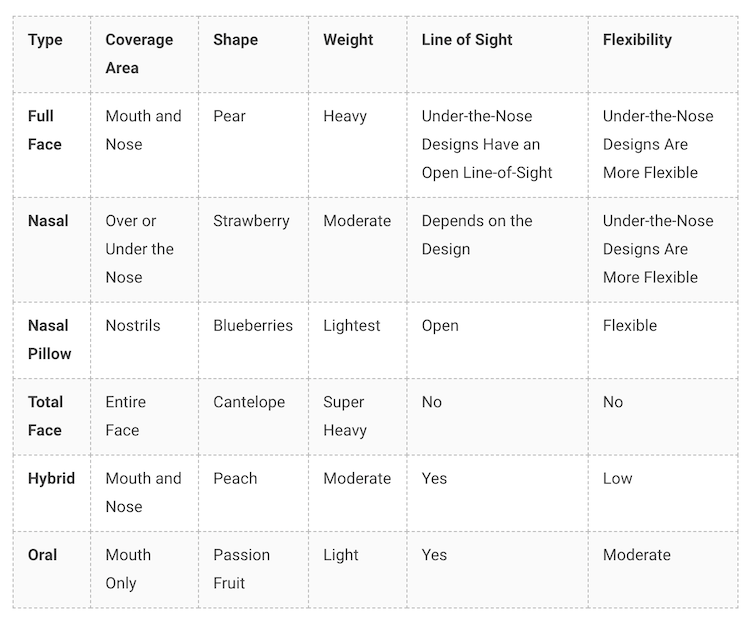 What's the Difference Between Full Face Masks and Nasal Masks?
Full face masks cover both your mouth and nose while nasal masks cover only your nose. Full face CPAP masks are also designed to facilitate breathing through either the mouth or nose.
What's the Difference Between Full Face Masks and Nasal Pillow Masks?
Nasal pillows seal around the base of each nostril while full face masks seal at both the mouth and nose. Nasal pillow masks are also more minimalistic and have a much smaller surface area than full face masks.
Full Face Mask Designs
CPAP full face masks have evolved over time to resolve some of the drawbacks discussed above. If you need a full face because you can't breathe through your nose, find out what styles best fit your needs.
There Are Three Design Styles of Full Face Masks:
Over-the-Nose Cushion
Under-the-Nose Cushion
Hollow Frame Design


Over-the-Nose Cushion
The earliest design of full face masks used over-the-nose-cushions, covering the mouth and the bridge of the nose. Today's over-the-nose masks feature improvements to the original design with many allowing for a wider range of vision and a better seal.  The design has stood the test of time and you can find slight differences with the newer models with less intrusive headgear and different cushion materials.
Examples:
Advantages:
Best Seal
Most Durable
Great for Side Sleepers
Disadvantages:
Bulky
Usually No Open Line of Sight
Hard to Clean


Under-the-Nose Cushion
The under-the-nose cushion covers the mouth and seals around the base of your nose with the hose connection positioned in front of your face. Very few full face masks fall into this category, and this style is the least popular.  Many people look to this design as a solution to a blocked field of vision found on an over-the-nose mask, and it's easy to see why. By using a cushion that seals at the base of the nose, it leaves your vision unobstructed and allows you to see more of the world around you.  The biggest downside is having a lot of bulk near the front of the face, making it difficult to wear glasses or sleep on your side or stomach.
Examples:
  Advantages:
Open Field of Vision for Watching T.V. and Wearing Glasses
Comfortable
Disadvantages:
Have to Replace Cushion Often
Not Ideal for Side or Stomach Sleeping
Getting an Effective Seal Could Be Difficult at First


Hollow Frame Design
The hollow frame design has a cushion that seals under the nose. It is characterized by the hose connection on top of your head. The main difference between the under-the-nose cushion and hollow frame is the hose connection being on top instead of being in the front.  Hollow-frame full face masks are great for reading or watching T.V., and they help make stomach or side sleeping possible by removing the hose connection from the front of your face. Hollow-frame designs are the second most popular of the three types of full face masks. The biggest drawback of this design is that the cushion can wear out more quickly than the other designs due to the seal living at the base of the nose. The silicone seal at the base of the nose is made with thin material that isn't as durable as over-the-nose designs, and it tends to wear out more quickly. 
Examples:
Advantages:
Active Sleeper Friendly
Open Field of View for Watching T.V. and Wearing Glasses
Ideal for Side and Stomach Sleepers
Disadvantages:
Doesn't Seal Well Under the Nose
Frequent Cushion Replacements
Hard to Clean


Finding Your Most Comfortable Fit 
When choosing a full face mask, it's important to know how you actually sleep and not how you'd like to sleep. Knowing your sleeping position and whether or not you're an active sleeper will best help you choose the mask type that's best for you.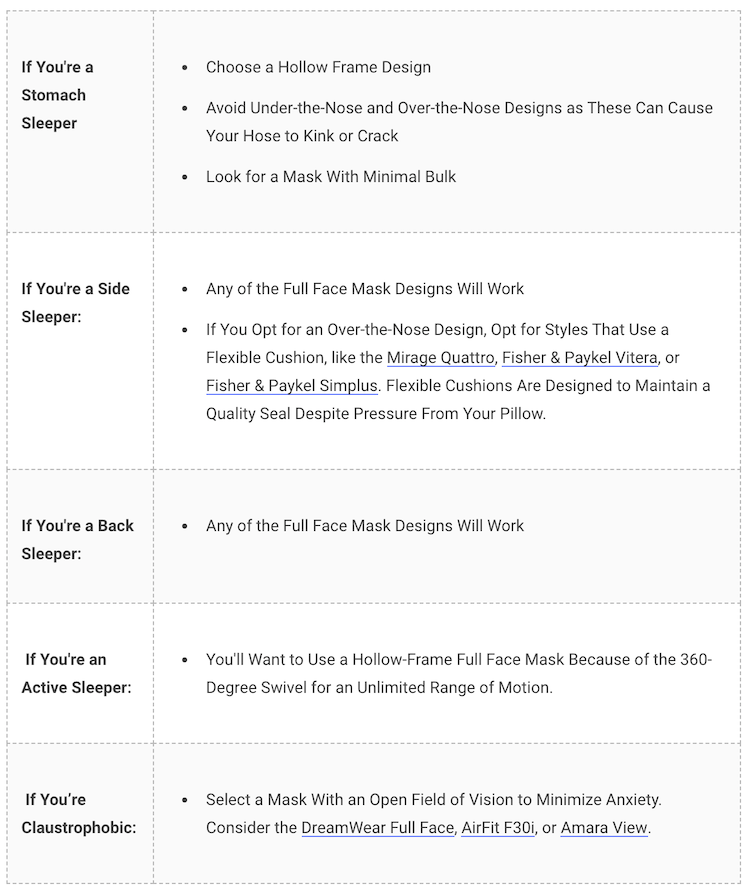 Use a sizing guide to help you find what cushion and frame size will be the best fit for you! Print the guide, make sure it's to scale, and measure your mouth and nose. It's best if you stand in front of a mirror while doing this, and it's even better if you have a partner to help! The goal is to find the closest fit to your mouth and nose without going over. 
We include sizing guides near the buy button of all of our product pages, so you can easily download and print them to find the best fit for you. If there is no sizing guide for a mask, consider purchasing a Fit Pack! The Fit Pack contains all cushion sizes, so you can try each one to see what size creates the most comfortable and effective seal.
Solutions for Most Common Full Face CPAP Mask Pain Points
Problem: "I'm Still Snoring With My CPAP Full Face Mask" or "My Mask Is Leaking Air"
Adjust your headgear strap. The CPAP mask should not feel overly tight but firm. Turn on your machine and look for leaks around the mask—adjust until you get a good seal and comfortable fit.
Find a mask style that creates an effective seal for your face. If you are an active sleeper, try an over-the-nose or hollow frame design.
Try a different size using the sizing guide or consider purchasing the Fit Pack, as all CPAP masks at CPAP.com have free 30 day returns.
Call your doctor or sleep specialist to adjust CPAP pressure settings. If the pressure is too high, mask leaks can occur, and if the pressure is too low, you will get insufficient air.
Change sleeping positions by sleeping on your side. A CPAP pillow may be an effective way to stay on your side.
Remember to replace your mask equipment based on the replacement schedule.
Problem: "I'm Waking Up With Red Marks, and My Skin Is Irritated"
Loosen your headgear straps. Your mask should not feel overly tight and uncomfortable.
Clean your CPAP mask daily with warm water and mild soap or use CPAP cleaning products.
Try a CPAP Mask Strap Pad for extra protection as it covers your headgear straps for increased comfort.
If you are allergic to silicone, try a cloth CPAP mask like the SleepWeaver Anew Full Face Mask.


Cleaning Schedule 

Cleaning your CPAP mask every day reduces the chances of mask leaks and infections.
Replacement Schedule

What's the Best Full Face CPAP Mask For You?
Best CPAP Full Face Mask For Women
The ResMed AirFit F20 For Her is the best full face CPAP mask for women. If you're looking for a mask that fits and seals effectively, this mask is for you. The mask is designed for a woman's facial structure, so you can comfortably sleep without making adjustments throughout the night.
Best CPAP Full Face Mask for High-Pressure Settings 
The ResMed Mirage Quattro is the best full face mask for high-pressure settings thanks to its rugged design, forehead pad, and dual-wall adjustable cushion. With all the extra support, the Mirage Quattro will stay anchored in place even as your pressure ticks higher.
For quick recommendations of popular full face masks, read the Best Full Face CPAP Masks 2021 article.