ResMed MyAir has quickly become one of the most popular ways for CPAP users to manage their CPAP therapy! Why? Because it allows you to take control of your therapy and see real time results on how your therapy is progressing and what factors are prohibiting you from getting the most out of your Sleep Apnea treatment.
It consolidates your data into a few key measurements to calculate your MyAir score, which you can review whenever you'd like via your desktop computer, phone, or tablet.
ResMed MyAir helps users take an active role in controlling their CPAP therapy by allowing you to resolve issues quickly, without the need to contact customer support. By using MyAir, you'll be able to see how your therapy is working on a day to day basis and helping improve your overall sleep. The software is designed to be very user-friendly so it consolidates your data into a few key measurements to calculate your MyAir score, which you can review whenever you'd like via your desktop computer, phone, or tablet.
Now, let's get into how to get that perfect MyAir score!
How can I get a 100 on my ResMed MyAir score?
There are 4 key factors that are taken into consideration when calculating your ResMed MyAir score – Usage Hours, Mask Seal, Mask On and Off, and Events Per Hour, or AHI. Each key factor has its own respective point system. Let's break down what each of these mean and how they contribute to your overall score.
Usage Hours
This is where the majority of your points will come from, with a maximum of 70 points. The point system for usage is calculated in hours and minutes. If you use your therapy for 1 hour you get 10 points, or for 2.3 hours (2 hours, 18 minutes) you get 23 points. The more time you use your therapy, the more points you receive, up to a maximum of 70 points (7 hours). Easy enough, right?
Tip: If you're struggling to use your CPAP mask consistently throughout the night, you can try to increase your comfort by adding humidification or a heated hose.
Mask Seal
This factor has a maximum of 10 points, and is determined by how well your mask is sealed, resulting in minimal mask leak. You can get up to 10 points for the lowest mask leak rate, 5 points for moderate leak, and 0 points if you have a high leak rate.
Tip: If you're finding your mask has a higher leak rate, you can try replacing the cushion or headgear. If you still see no success, you may want to look into how facial hair can cause some leak issues as well.
Mask On and Off
This factor has a maximum of 10 points, and is calculated by how often your mask is taken off throughout the night. The less you remove your mask, the higher score you'll get here! If, for example, you remove your mask 1-2 times in a night, you'll get 5 points. The key to scoring high here is to make sure your mask is as comfortable as possible.
Tip: Make sure you're giving yourself time to get used to your CPAP mask by wearing it outside of just sleep time, like while you're watching TV. Sure, that sounds a little silly, but it will help your therapy in the long run. Also, you can try aromatherapy for added comfort!
Events Per Hour (AHI)
This factor has a maximum of 10 points and is calculated by the number of apneas and hypopneas per hour. The lower the number of events, the higher the score. The only way to get the best score in this section is continued Sleep Apnea therapy. If you think your therapy isn't progressing like it should after consistent use of your CPAP machine, make sure to consult with your doctor.
Not sure if your device is compatible? Here's a list of all compatible ResMed CPAP therapy machines: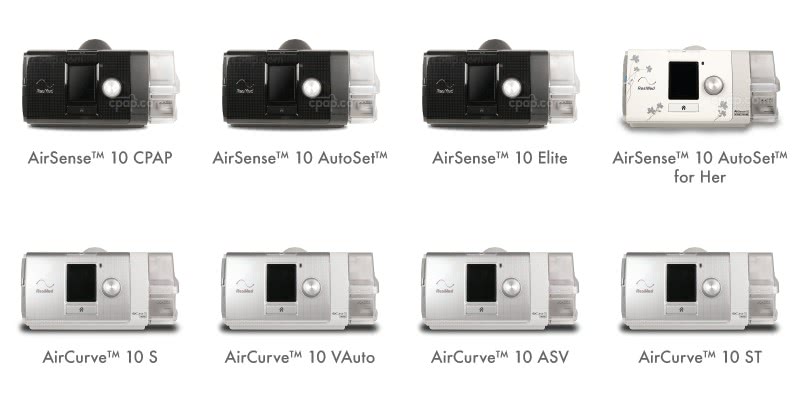 How to Set Up ResMed MyAir to Work with Your ResMed Machine
If you've ordered from CPAP.com, take into consideration that we ship out ResMed machines on Airplane mode to prevent any data transmission because we want to give you the freedom to choose whether you want to share that health data with any outside software. Luckily, set up is easy! Here are the steps.
Set up wireless data transmission on your CPAP machine. To do this, simply turn off Airplane mode by clicking on "My Options", "Airplane Mode" and then "On".

Register your device

with MyAir. You'll be asked to provide both your machine serial number and device number to create an account and link the data transmission.

Download the app on your mobile device, like your phone or tablet. 

*This step is optional. Your MyAir data can also be accessed through the website at any time.
There you have it! Getting started with your ResMed MyAir is as easy as that. The CPAP.com team is here to help you if you need any assistance in this process. Don't forget to sign up for our newsletter so you can stay up to date on all the latest technology and tips for your CPAP therapy! Have questions? Contact us! We're here to make your Sleep Apnea treatment seamless and simple.