No hose. No cords. No mask. You guessed it! It's the Airing CPAP. This tiny CPAP device has had a huge impact on the CPAP market. It has sparked hundreds of questions across the CPAP community and has inspired many of us to dream about the future of CPAP. How will Obstructive Sleep Apnea be treated in a few years?
Now, before we head in that direction, let's backtrack for a second. It's time for a CPAP flashback. It's the 1980s; a time filled with neon, parachute pants, and shiny leggings. Finally, you can purchase a CPAP machine to use at home! Granted, it's extremely heavy and loud, but it allows you to sleep better.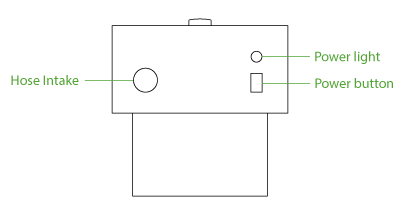 As the mysteries behind Sleep Apnea and Continuous Positive Airway Pressure (CPAP) are unraveled, the equipment becomes much more compact, light, and helpful.
We may be on the verge of masks and machines becoming one. The Airing intends to change the way CPAP therapy is delivered by creating a simple and easy to use micro-CPAP device. This product is still in it's early stages. Once the Airing reaches its final form, we'll be able to provide you with a lot more info on it. Meanwhile, here's what we know: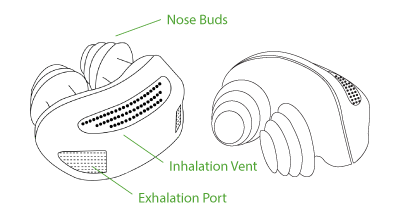 Nose Buds
The current prototype uses soft, silicone nose buds to keep the device in place. Wondering how that feels? Try out a nasal pillow mask today. This will give you a better feel of how nose buds work and your level of tolerance towards this type of seal. Plus, they are some of the smallest masks around. Top rated on CPAP.com are the Swift™ FX and AirFit™ P10. You may also consider using a chinstrap at first to make sure your mouth remains closed while in use.
Weight
The micro-CPAP device weighs less than an ounce. If your current mask or hose is weighing you down, check out the lightweight tubes and SleepWeaver masks. These soft cloth masks also weigh less than an ounce and help reduce red marks.
Technology
The Airing relies on micro-blowers and a Zinc-air battery to provide the air pressure needed to keep the airway open. When put together, they should result in a device that is powered for eight hours and delivers the right amount of pressure. It is meant to be a disposable device and shouldn't require any cleaning.
If you're looking for something that you can use every night and is packed with comfort features, view the Z1 Auto Travel CPAP Machine or the Transcend Auto miniCPAP™ Machine. The pressure delivered by the machine adjusts on a breath by breath basis and operates at a quiet level of 26.6 dB. They are two of the smallest, lightweight machines on the market, making them ideal for use at home or while you travel.
Or if you're looking for an alternative to CPAP therapy, read more about Provent and discover if it's right for you.
Just Can't Wait?!
Anticipation. What a miserably wonderful feeling!  CPAP.com loves new products, and as soon as more information becomes available, we will update our blog to keep you in the loop. You may also sign up for the CPAP.com newsletter to stay up to date on all things CPAP.