Are you asking yourself which nasal pillow mask is going to give you the most comfortable sleep? Selecting a nasal pillow mask or any CPAP mask for that matter can take some digging to find the ideal mask for you.
Now, are you wondering who the perfect candidate is for a nasal pillow mask? A nasal pillow mask or CPAP nose pillow mask is meant for people who breathe primarily through their nose and do not breathe through their mouth primarily during sleep. A person who breathes through their mouth could use a CPAP nasal mask if they also use a chinstrap.
Unlike a nasal mask that secures around the nose, a nasal pillow mask seals around the base of each nostril, forming a comfortable, pillow-like seal. An added plus? Many CPAP wearers find that a nasal pillow mask is the best CPAP mask for them.
Let's explore some of our customer's favorite nasal pillow masks!
Quietest Nasal Pillow Mask of 2023
The AirFit P10 Nasal Pillow Mask is one of the quietest CPAP nasal pillow masks on the market today! For nasal pillow mask wearers, a quiet mask means less irritation and sleeping disruptions for you and your sleeping companion. Worried about getting the right fit? The AirFit P10 comes in three different nasal pillows sizes: small, medium, and large. This allows you to find your ideal fit without having to guess!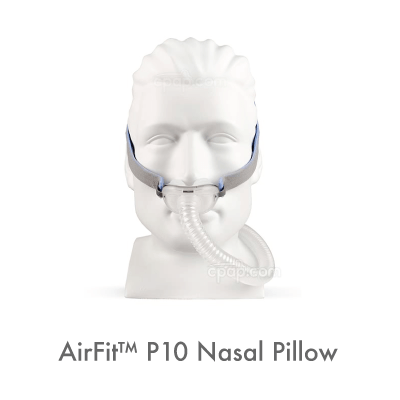 The AirFit P10 features a lightweight and simplistic design with soft and flexible nasal pillows. Additionally, it has QuickFit Headgear, which means it's easy to adjust thanks to the absence of velcro straps.
For Her Edition: The AirFit P10 Nasal Pillow CPAP Mask For Her is designed specifically to meet the needs of our female customers who prefer a nasal pillow mask. The mask is lightweight and provides a tight seal. It also comes equipped with the QuickFit Headgear. The included nasal pillows are in the sizes of extra small, small, and medium to meet the needs of a smaller facial structure.
Best for Reading or Watching TV
The hose connection is at the top of the DreamWear Gel Nasal Pillow CPAP Mask, which means your line of sight is free and unobstructed. This will allow you to continue reading or watching TV before drifting off to dreamland. The DreamWear Nasal Pillow Mask includes fabric frame wraps, which can help reduce skin irritation. The mask comes with several different sizes of nasal pillows in small, medium, and large. This will allow you to experiment with different sizes and find the best fit for you!
Like the feeling of gel cushions? Ever wish a mask frame was completely made of silicone? The DreamWear is made of hollow tubing that feels like a giant pillow. The DreamWear may be preferred by a wearer who dislikes a mask with headgear straps on their face or dislikes a mask that seems tight or claustrophobic. It also uses gel nasal pillows to create a secure seal around the nostrils, which can increase comfort and allow for a more restful sleep.
Easiest to Adjust and Best for Side Sleepers
The Swift FX Nasal Pillow Mask has a flexible chamber that provides additional stability for side sleepers. It has a soft, silicone-based headgear that is easy to adjust. The Swift FX has a buckle on top and features a low-profile backstrap, which are the only points you'll need to adjust. You'll also appreciate the soft wraps, which cushion the mask and keep it steady during the night. This mask comes with small, medium, and large pillows, which will allow you to find the perfect fit without needing to order multiple different sizes.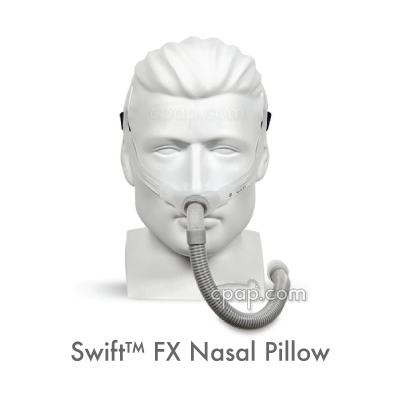 The Swift FX Nasal Pillow Mask is ultra-quiet and could mean fewer sleeping disruptions for you and your sleeping companion. If you travel frequently, you'll appreciate the small, lightweight, and travel-friendly design. The pillows are designed for comfort with dual-wall flaps that provide enhanced support.
For Her Edition: The Swift FX For Her Nasal Pillow CPAP Mask with Headgear is the complete package. It is lightweight, sleek, and easy to adjust. The mask comes in petite sizes and is travel-friendly and ultra-quiet.
Flexible Fit For All
The Brevida Nasal Pillow Mask has generated a lot of buzz, and it's easy to see why! The standout feature is the fit can be improved by easily adjusting the headgear straps, and the mask can fit many different face shapes easily. It comes with everything you need to create the best fit for your therapy.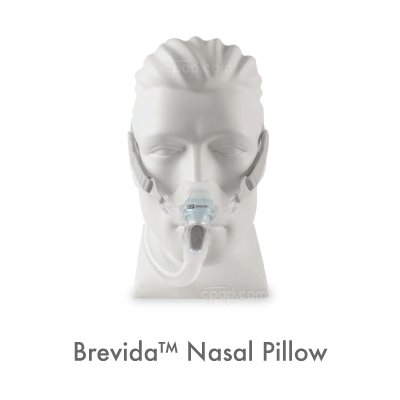 The Brevida has a lightweight, minimalistic design that is intended to create the least amount of pressure on your face. The triangular pillow is lightweight and creates a comfortable seal around your nose. The connection to the mask itself allows for easier movement and offers the wearer the chance to move around during the night. The diffuser cap, which is designed to reduce noise, can be washed as part of your mask cleaning routine.
If you love nasal pillow masks, then we hope our review of the best nasal pillow masks helped you to identify the features that are most important to you in a mask!
David Repasky has been using CPAP treatment since 2017 and has first-hand experience with what it's like to live with Sleep Apnea. He brings the patient's perspective to the CPAP.com blog and has received formal training in CPAP machines, masks, and equipment.