Adjusting to life with a CPAP is hard. I should know. I've been struggling with sleep apnea for years. I've had periods where my therapy has worked extremely well and times where it was a struggle to stick with it. If you're like me, you may have found CPAP equipment bulky and uncomfortable or that your mask didn't work with your favorite sleeping position. There could be a million reasons you've given up.
Here's the kicker: If you've stopped sleep apnea treatment altogether, you could be faced with an increased risk for a heart attack, or stroke, or even death. Those are risky odds you don't want to mess with.
In this post, we'll help you get to the bottom of why your therapy isn't working and help you find the tools you need to fall back in love with your CPAP machine. Let's dive in!
Problem: Noisey CPAP Set-Up
Some CPAP machines can be downright noisy with certain models making the sound of a low-grade vacuum cleaner! If you gave up on your CPAP machine because of noise, you should know there are a few different ways you can reduce the sounds that drove you away from your therapy.
Potential Cause: Mask Leaks
Mask leaks can be irritating; There's no question about it. They can whistle and hiss, and they're sure to interrupt your sleep. Here are some things you can do right away to reduce the likelihood that your mask will leak:
Is your mask tight enough? Sometimes all you need to do to stop leaks is to tighten your mask.
When was the last time you replaced your cushion? Over time, all cushions will wear out and need to be replaced. Sweat and human oils tend to degrade silicone, and as a result, it will make it harder to get a seal that works. Sometimes simply replacing the cushion is all you need to do to improve the seal of your mask.
Do you have the proper cushion size? A cushion that's too big can cause leaks by not being the right fit for your face. Consider getting the "Fit Pack" version of your preferred mask as it comes with cushions in all sizes. From there, you can experiment with different sizes to find the best one for you.
Is the mask positioned correctly? Consider adjusting the mask on your face to see if there's a spot that works better.
Potential Cause: Hose Noise
As air passes through your tubing, it can combine with mask noise to make you sound like Darth Vader. If your hose is making too much noise, there's a product that can help reduce it. It's called the Q-Tube CPAP Muffler. Just like how the muffler on your car helps to dampen the noise of your engine, the Q-Tube attaches between your hose and mask and can reduce the airflow noise you may be hearing during your sleep. It's an inexpensive solution that can help you as you try to cut down on the noise from your CPAP hose.
Solution: Quieting Your CPAP Machine
Is your home machine too noisy? Is it also a travel unit? If it is, it may be the source of your problem. Travel machines are often a lot smaller than traditional CPAP machines, and they have less opportunity to absorb the sound coming from the machine. In most cases, it can mean the travel unit will be noisier than you'd like. If noise is an issue, consider selecting a quieter CPAP machine.
Editor's Pick: DreamStation Auto with Heated Humidifier
If noise is the biggest complaint you have about your CPAP setup, we have a solution. The DreamStation Auto with Heated Humidifier is one of the quietest CPAP machines around and only registers 25.8 decibels. 25.8 decibels is considered below whisper-quiet. I use this machine at home, and neither my wife nor I can hear it work at night. When combined with the right mask, the DreamStation Auto provides quality therapy that helps keep sleep apnea at bay while at the same time providing the peace and quiet you need to fall asleep.
---
Problem: Uncomfortable CPAP Set-Up
Some people give up on their CPAP therapy because the setup just isn't comfortable. If you don't know how to solve some of the more irritating CPAP side effects, you may find yourself not using your machine. Here are some steps you can take to resolve some comfort problems with your CPAP setup.
Solution: Humidification
If your mouth and sinuses dry out during your treatment to the point where they're cracked and painful, you will need to invest in humidification to resolve your symptoms. Humidification works by adding moisture to your therapy air, and the moisture, in turn, keeps your sinuses from feeling dry and cracked. While it is possible to buy a separate humidification system for your CPAP machine, most machines have a model that's integrated—designed to work with your specific model of machine for optimum performance.
Editor's Pick: AirSense 10 AutoSet with Heated Humidifier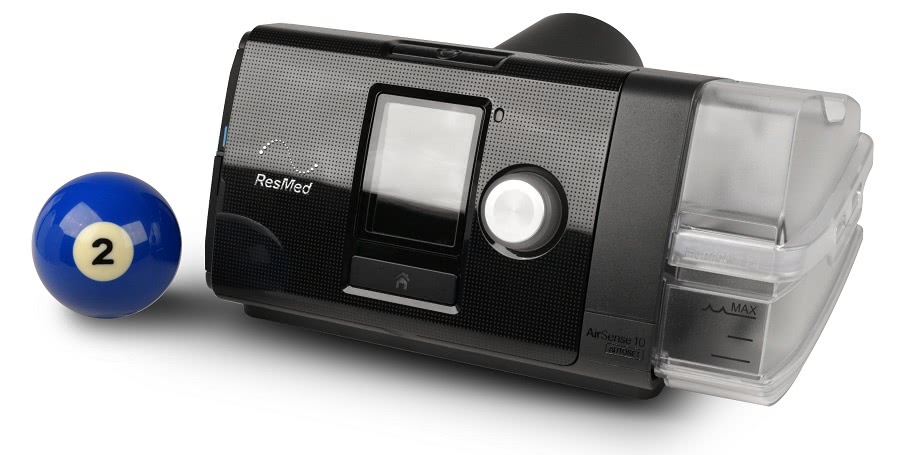 The AirSense 10 AutoSet with Heated Humidifier is a great pick because it's a machine that includes the heated humidifier without needing to buy a separate unit. For anyone suffering from dry mouth, this machine will be a welcome addition to your nightly routine.
Alternative Humidification Solutions
If you want to gain the benefits of humidification without the distilled water, consider purchasing a Heat Moisture Exchange Unit. This device uses no water or power and connects to your hose. It retains the moisture from your exhaled breath and recycles it so your sinuses stay comfortable, and CPAP becomes more tolerable.
---
Problem: Claustrophobia
Some people feel boxed in when wearing their mask. Claustrophobia is a fear a lot of people have when it comes to their CPAP equipment, and that's sometimes coupled with fears of suffocation. If these are feelings you have regarding your therapy, sometimes changing your mask could make all the difference.
Solution: Try a Low-Profile Design
If your cushion size is so big that it makes you anxious, there are now several new mask designs on the market today that can help with that. Consider getting a minimal mask with a top-of-the-head hose connection. By placing the hose connection to top-of-the-head, you'll be free of any obstructions to your vision, allowing you to see clearly. These designs allow air to flow through the frame on its way to your nose or mouth, and you won't have to worry about suffocation if you sleep on your side. If a side of the mask frame gets closed off by your sleeping position, the air reroutes itself to the other side, and you'll be able to breathe like you normally do.
Here are some of our favorite low-profile masks:
Hopefully, we've given you a few tactics to help resolve the issues you've been having with CPAP therapy. One of the key motivators to remember when struggling with CPAP therapy is finding your why. What's your why?