Home

/

Human Design Medical
Q-Tube In-Line CPAP Muffler Kit
BY Human Design Medical
Item #HD60-2500
---
Item # HD60-2500
Not Currently In Stock
Need replacement parts & accessories?
Shop Now
Product
Overview
The Q-Tube In-Line CPAP Muffler Kit from HDM connects between a CPAP machine and hose to help reduce machine and airflow noise. The small tube included with the kit is used to connect the Q-Tube to the air outlet on the CPAP machine. Sound traveling through the mask will be less prominent, allowing the CPAP user to fall asleep more easily.
HDM's Q-Tube In-Line CPAP Muffler Kit is designed to minimize sounds emitted from the machine. The compact muffler is lightweight and measures roughly 5 inches in length. A foam layer inside of the Q-Tube Muffler helps to diminish noises related to CPAP therapy. This foam can be removed and replaced to maintain the device.
The Q-Tube connects between the machine and CPAP hose. The Q-Tube is not meant to be placed between the CPAP hose and mask. The universal Q-Tube is compatible with all CPAP, APAP, and BiPAP machines.
The Q-Tube Muffler is not compatible with water based humidification units due to the saturation that will take place within the foam layer. The Heat Moisture Exchange Unit for CPAP Machines is a waterless humidification option that can be added to CPAP therapy if desired.
Please Note: Adding the Q-Tube to an integrated heated hose will prevent the electrical connection between the hose and the machine. If you are using an integrated heated hose, the Q-Tube will not be compatible with your equipment.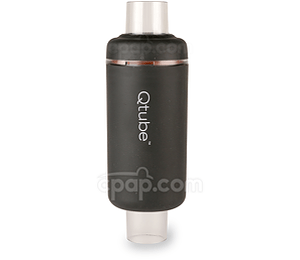 Q-Tube In-Line CPAP Muffler Kit
---