If flexibility is your number one priority when shopping for a travel CPAP, you might appreciate the Transcend line of miniCPAP™ Machines by Somnetics. Like the other portable CPAP models on the market, Transcend machines are small, lightweight, and quiet. They're easy to pack in a carry-on bag or backpack, allowing you to continue your apnea therapy uninterrupted when you're on the road.
However, this line of travel CPAPs has two unique selling points that make it stand out from the pack: Transcend machines are compatible with all CPAP masks, and they have a multi-night, solar battery charger option–making it possible to power your machine anywhere, even off the grid.
These features are why the Transcend miniCPAP™ line (including the standard Transcend miniCPAP™  – Transcend 2 CPAP, miniCPAP™ with EZEX, and an Auto miniCPAP™ with EZEX) is popular with frequent travelers, campers, hikers, and outdoors aficionados.
Is the Transcend line of portable CPAPs the right choice for your needs? Read on to learn more.
Sleek, Small, But Suitable for Every Day
The Transcend line of portable miniCPAP™ Machines is impressively compact and easy to bring just about anywhere. The machine weighs 0.9 pounds, making it one of the lightest CPAPs on the market. The dimensions are trim as well, coming in at just 6.1 inches by 3.5 inches by 2.8 inches. The machine can fit in your palm; tucked inside luggage or a backpack, it takes up about the same amount of space as a rolled-up pair of wool socks.
In spite of its compact size, the Transcend line of travel CPAPs boasts advanced features you'd expect to find on a larger everyday machine:
Ramp feature and leak compensation. Pressure can be set to increase over a period of up to 45 minutes. Leaks are detected and offset, making sure users get sufficient pressure.
Auto altitude adjustment. This feature adjusts pressure automatically up to 8,000 feet–making it a good choice for hikers and alpine campers.
AHI and leak detection tracking for up to 12 months. An optional USB cable allows users to access the ramp feature and advanced data, including reports on patient therapy (therapy pressure, ramp starting pressure, and ramp duration) compliance, leaks, and AHI events per hour.
These features are common to the full Transcend line of portable CPAP machines. The miniCPAP™ with EZEX goes a step further, offering three settings of EZEX Pressure Relief and email-capable data tracking. The Auto miniCPAP™ with EZEX offers four settings of Pressure Relief, along with the convenience and comfort of APAP therapy.
Both EZEX models feature an easy maintenance filter. All Transcend models allow you to try the product risk-free for 10 days.
Flexible AC, DC, Battery, and Solar Options
The versatile power options offered with the Transcend line really set it apart. No matter where you're traveling in the world or how you're traveling, you can keep using your CPAP without interruption.
If you're plugging into a wall outlet, the attached power cord works with international plug adapters for use in the United States, United Kingdom, European Union, and Australia and New Zealand.
For battery operation, users have their choice of the optional Transcend Overnight Battery or the Transcend Multi-Night Battery, which some users say lasts them for three nights. When either battery is in place and the machine is plugged into a wall outlet, the power failover function will allow it to switch automatically from AC to the battery– a useful feature during storms or brownouts or when sleeping in regions where power may be interrupted.
The Transcend also has an optional DC Mobile Power Adapter kit, suitable for use with a cigarette lighter in an automobile.
Finally, for even more flexibility, Somnetics offers the lightweight Transcend Solar Charger, ideal for use when camping or hiking or during extended power outages. (The solar option is also ideal for charging up your machine when traveling in areas not included with the AC power adapter kit, such as Asia and South America.)
The foldable solar charge panel can be used wherever you can find direct sunlight. It can charge the Multi-Night Battery in approximately 12 hours in direct sunlight and the Transcend Overnight Battery in approximately 6 hours. Batteries connect directly to the solar charger without the need of converters or inverters.
This unique solar option is particularly useful for hikers and anyone trekking through the backcountry, where plugging in isn't possible and carrying less (no cables or spare batteries) is always more.
Compatible with All Apnea Masks
All Transcend machines come with a standard six-foot hose and hose adapter that make the CPAP compatible with all CPAP masks. This means you can continue to use the mask you like best–no need to switch to a special mask custom-suited to the smaller-size machine.
Considerations (Possible Drawbacks)
What are some reasons you might prefer a different model over the Transcend? After looking over customer feedback and reviews, we've compiled the following list of potential downsides:
Noise. Sound is a complaint, as it is for many of the smaller sized travel machines. Some users complain of a squeal that keeps them awake. Placing the machine farther from your head or using a muffler or white noise machine may help. (However, many users say they find the machine to be quiet; noise tolerance is relative.)
Humidifier. The battery pack for the Transcend does not support the use of the heated humidifier (sold separately). If you're going to travel with the humidifier, you will need to bring and use your transcend power cord.
Not compatible with Apple products.The software for settings and reports is compatible only with Windows XP, Windows 7, Windows 8, and 32-bit & 64-bit. It does not work with Apple iOS.
Power button is hard to find in the dark. The machine's on/off button is not lit, which can make it hard to turn on and off in a dark room. (On the other hand, some users may appreciate the lack of ambient light.)
Conclusions
For users who tent camp, RV travel, hike, or trek through the backcountry, the lightweight, easy-to-carry Transcend line of travel CPAPs is a solid entry that gives options when traveling through places where power is variable.
The availability of multiple AC and DC chargers and adapters, plus batteries and solar charging abilities–and a failover option in case of power outages–makes this line a reliable offering for travelers who need backup when going abroad or sleeping in areas with storms, heat waves, or unreliable power.
Plus, the ability to keep your favorite apnea mask when using the Transcend is a big plus. Some brands of travel CPAP restrict users to just a handful of proprietary masks; with the Transcend, you can keep your existing mask, cutting down on both expense and acclimation periods as you get used to a new fit.
The portable Transcend line also boasts machines for variable air pressure needs: the Transcend miniCPAP™, the Transcend miniCPAP™ with EZEX pressure relief, and an Auto miniCPAP™ with EZEX.
Overall, the Transcend line is a popular choice for travelers among the many portable CPAP machines available today. It offers quality therapy in a small size and can be used both for travel or as an everyday machine.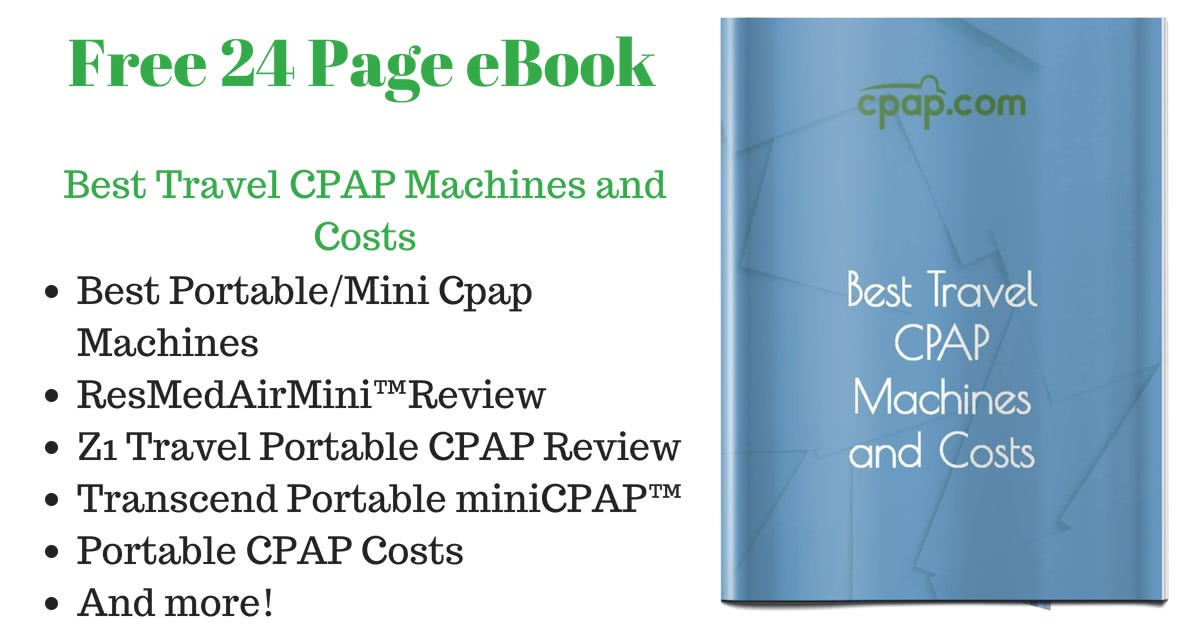 David Repasky has been using CPAP treatment since 2017 and has first-hand experience with what it's like to live with Sleep Apnea. He brings the patient's perspective to the CPAP.com blog and has received formal training in CPAP machines, masks, and equipment.