Planning ahead for your next adventure or preparing for a future power outage starts with a CPAP battery. CPAP batteries give you the ability to take your therapy on-the-go, in the wilderness, on a flight, or simply at home! However, the main reasoning behind having a CPAP battery on hand is you now have the flexibility to always bring your CPAP therapy with you whenever life takes you.
Whether you're ready to roam the trails or want a CPAP battery backup on hand, now's the time to ensure your therapy never misses a beat!
Different Types of CPAP Batteries
There are two main types of CPAP battery options: deep cycle batteries (car and boat) and lithium-ion batteries (found in electronics including CPAP machines.
Deep cycle batteries are typically found in auto part stores, are much heavier than lithium-ion batteries, and can be difficult to recharge.
Lithium-ion batteries are the most common CPAP batteries available today and are designed to provide a decent runtime—sometimes powering a CPAP machine for more than one night! They also typically charge quickly, getting up to full power in four to six hours.
Here's a quick breakdown of the two different types of CPAP batteries:
Deep Cycle:

Lithium-Ion:

Not Portable
Great for Camping
Longer Battery Life

Great Portability
Use In-Flight
Quick Charge
Battery Cost
The cost of CPAP batteries can vary and can depend on what battery works best with your machine. Many CPAP batteries are budget-friendly, costing a few hundred dollars—while others can be close to $900. For a cost-effective option, keep reading to find a universal battery that works with your machine.
Battery Run Time
Most lithium-ion CPAP batteries are designed to last one or two nights under normal operating conditions. However, the run time can vary depending on:
Machine Type
Higher Pressure Settings
Humidification Use
Altitude Level
Inverter Use
How to Achieve Longer Battery Run Times
To Help Improve Battery Life Try To:
Forego Humidification 

Avoid Using an Inverter

Use an APAP Machine (Can Increase Battery Run Times Since They Are Programmed to Deliver the Pressure You Need at All Times) 
Also, try a travel machine that is made to accompany you on your adventures. It may also help to use a machine-specific battery. For example, the DreamStation Go has the specifically designed, DreamStation Go Overnight Battery. The DreamStation Go is designed to run for 13 hours using the Overnight Battery!
CPAP Machine Battery Compatibility
The Best Universal CPAP Batteries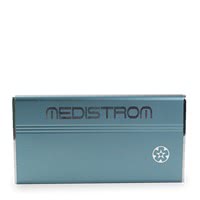 The Medistrom Pilot-24 is a top-ranked CPAP battery thanks to its light weight and small size. It's FAA compliant, meaning you can carry it on and use it during your flight. You'll also like that it doesn't require you to be a tech whiz to get it to work with your machine.
You can leave the inverter or companion device at home! Just get the appropriate cord and connect your machine!
The Medistrom Pilot-24 is a long time favorite, but it's also gained popularity points because of its compatibility with the ResMed AirMini and the ResMed AirSense 10, which are two of the most popular CPAP machines on the market today. It's also compatible with the:
ResMed S9
3B Medical Luna
Apex Medical iCH
Drawbacks: As a lithium-ion battery, the Pilot-24 can't tolerate extreme outdoor environments like extremely hot temperatures for extended periods of time. As temperatures rise above 104, the battery will begin to overheat. That's why it's a good idea to keep it out of the sun. It also doesn't come with its own power supply, which means if you want to charge it, you'll need to use the one that came with your compatible machine. This won't be a problem if you don't need the cord for anything else in the process.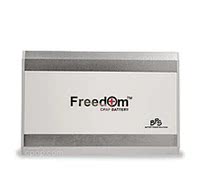 The BPS Freedom is one of the most flexible batteries out there, making it a popular choice among CPAP users. Depending on how you use it, it can be one of the longest-lasting CPAP battery packs. The Freedom makes it a breeze to take your therapy on the road, and it's handy to have especially if you have an older machine.
It has a fairly long-lasting charge if an inverter is not needed and can power most machines for at least a night or longer if you don't require a high-pressure setting. An added bonus? It can also be used as a reliable CPAP battery backup in case of an emergency.  This battery is intended to be a fairly universal product that's able to pair with almost any machine with very few exceptions.
Let's dive into the compatible machines:
AirMini AutoSet Machine (Using a150W Sine Wave Inverter)
HDM Z2 Travel Machine (Using a 150W Sine Wave Inverter)
HDM Z1 Travel Machine (Using a 150W Sine Wave Inverter)
DreamStation Go (Using a 150W Sine Wave Inverter)
ResMed S9 Machines (Using a 24V Power Converter)
ResMed S8 Machines (Using a DC Converter For S8 Machines)
Somnetics Transcend Machines (Using a Transcend Mobile Power Adapter)
AirSense 10 and AirCurve 10 Machines (Using a 24V Power Converter)
Drawbacks: When using the Freedom, you'll need to add an inverter to your packing list. However, inverters also draw power from the battery, which will reduce your machine's usage time. Additionally, it is compatible with numerous older machine models that have been discontinued by the manufacturer.
If you're going where there's no electrical outlet in sight, you'll appreciate the convenience of the Portable Outlet Universal CPAP Battery. It automatically converts the stored DC power into accessible AC outlet power. The biggest benefit to the Portable Outlet is its ability to power anything that uses a standard plug. You can power your CPAP machine, cell phone, laptop, or anything that uses a standard power supply! It's a universal battery that offers the versatility that other batteries lack.
Drawbacks: While you can power any device with the Portable Outlet, the biggest disadvantage is that you can only power one device at a time as there's only one outlet plug on the device. It's also on the heavier side. Despite these few drawbacks, it's one of the more versatile batteries on the market, making it a good choice for powering your CPAP machine and other devices.
CPAP Battery Backup Uses
Campers and hikers unite—your CPAP therapy can travel with you on-the-go!
However, even if you're not into hiking or camping, having a battery backup on hand that can kick in whenever there's a sudden loss of power is always a good idea! A major reason behind purchasing CPAP batteries is for the unknown situations—like storm season.
Battery backups integrate seamlessly with most CPAP machines, meaning that the battery knows if the device is or is not receiving AC power. If AC power stops for any reason, the backup kicks on automatically. In most cases, you won't wake up or notice your machine has switched since it's automatic.
What's the Best Battery Backup?
The Freedom Travel CPAP Battery is ideal for a CPAP battery backup. If power is lost, it will automatically kick in, and your therapy won't miss a beat.
Which CPAP Batteries Are FAA Approved for In-Flight Use?
One of the most popular FAA-approved lithium-ion batteries is the Medistrom Pilot-24 Lite. It's one of the lightest CPAP batteries around and is compatible with many popular CPAP machines. Lithium-ion batteries are the go-to when it comes to in-flight use!
We hope you're now ready to take your CPAP battery for your machine on your next adventure! Whether you're hitting the trail or opting for a battery backup, you can't go wrong by having a battery on hand and ready to go!
David Repasky has been using CPAP treatment since 2017 and has first-hand experience with what it's like to live with Sleep Apnea. He brings the patient's perspective to the CPAP.com blog and has received formal training in CPAP machines, masks, and equipment.