Are you struggling with staying asleep? Light could be the culprit that's preventing sound sleep—whether from inside your home or outside, light sends signals to your body that it's time to wake up.
Your sleep cycle works hand-in-hand with the amount of light present, which explains why you feel sleepier when it is dark. Sleep masks allow your body to think it's nighttime, making sleeping at any time of the day possible. Sleep masks are also super travel-friendly and give you the ability to sleep in cars or on planes and trains while also easing the stresses of jet lag. If you work at night, sleep masks will be your best friend for falling asleep during the day. 
Top Sleep Masks Reviewed
Editor's Pick: Gravity Weighted Sleep Mask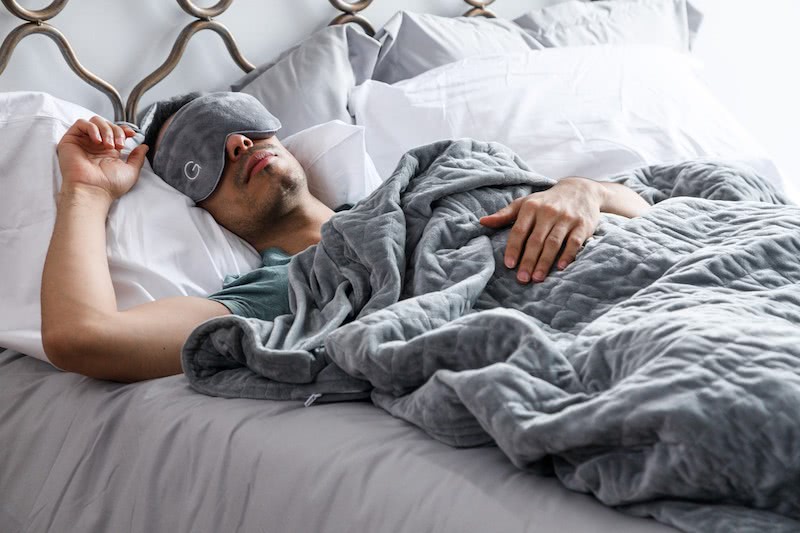 The Gravity Weighted Sleep Mask includes the same calming technology found in the Gravity Weighted Blanket, which helps to relieve stress and anxiety. Adding a little bit of extra weight to the mask gives gentle pressure to help you fall asleep faster while diving into a deeper sleep. The evenly distributed weight provides a sense of grounding by triggering the release of hormones to calm your nerves and give you the sleep you deserve. 
Filled with polyester and silica beads, the Gravity Weighted Sleep Mask adds about a pound of extra weight, which is distributed evenly across your face and eyes, eliminating any pressure on one part of your face. The weighted insert slips inside a luxurious and comfortable outer shell that blocks out light.
If you're looking for a quality mask with a premium feel, the Gravity Weighted Sleep Mask is our choice.
Perfect For:
Anyone Struggling With Anxiety or Stress
Weighted Blanket Lovers
---
Best Value: 40 Blinks Sleep Mask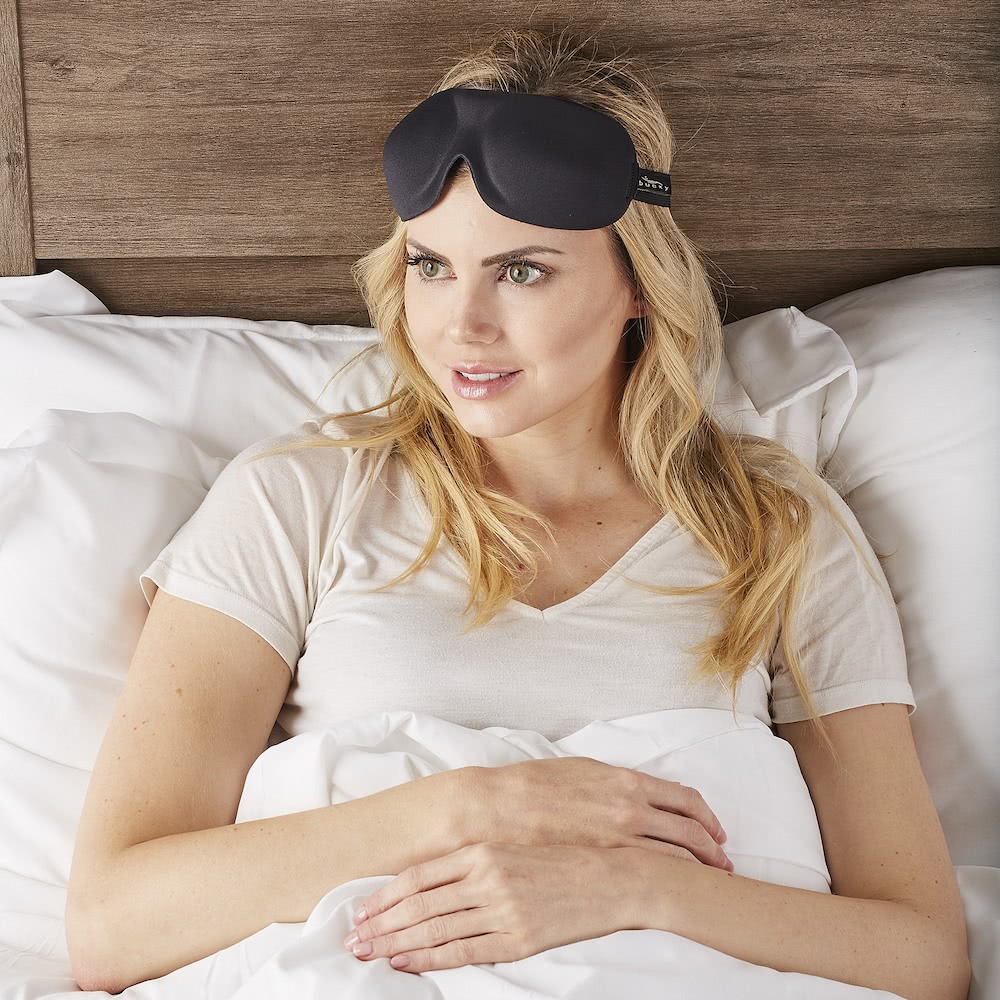 Bucky's 40 Blinks Mask is our best value pick, coming in under $15. The 40 Blinks Mask gives you lots of color options, including Black, Plum, and Cool Gray to fit your personal style preference. The sleep mask uses a patented design that facilitates greater comfort through your ability to still blink while wearing the mask.
While you're falling asleep, your eyes will move and blink naturally, which is why it's important to have a sleep mask that doesn't disrupt any natural sleep patterns. The 40 Blinks Mask's innovative design features raised, curved eye pockets to promote freedom of movement by allowing you to blink freely while falling asleep or waking up. The eye mask's band can be adjusted in the back to give you the ultimate comfortable fit.
Perfect For:
Those Who Want to Blink Before Falling Asleep
Value-Conscious Consumers
---
Best Heating or Cooling Mask: Bucky Serenity Spa Eye Mask
Kick your feet up, relax, and say SPA-AHH while using the Serenity Spa Eye Mask to fall asleep. Instead of using sand or rice to fill the mask, this sleep mask uses premium Buckwheat seeds that are able to retain hot or cold temperatures, creating a more comfortable and luxurious feel as you fall asleep. Using a mask that you can heat or cool helps to reduce eye puffiness or sinus pain and pressure, revitalizing and recharging you while you sleep. The eye mask comes in a relaxing green or aqua to fit your personal style.
Do you travel frequently and want to take your sleep mask along for the ride? Since the Serenity Spa Eye Mask uses Buckwheat seeds as the filler, it's FAA-approved for in-flight use, unlike sand-filled sleep masks that are banned on airplanes.
Made of a majority of polyester, the silky oversized eye mask is designed to block out light while applying therapeutic warmth or chill to your eyes to ease daily stressors. Weighing in at 7.2 ounces, the Buckwheat seeds add a little extra weight to the mask, which applies a relaxing, nurturing, and gentle pressure to help you fall asleep faster. The small amount of weight is the perfect pair to the therapeutic warmth or chill.
Perfect For:
Anyone Who Benefits From the Relaxing Elements of Heating or Cooling
Anyone Who Suffers From Eye Puffiness, Sinus Pains, Headaches, and Hot Flashes
---
How Do Sleep Masks Work?
Increased Melatonin Production. Created in darkness, the sleep chemical, melatonin, works to control your circadian rhythm and facilitates the drowsy feeling that's needed to help you fall asleep. Daylight and blue light devices such as your cell phone slow your melatonin production. Through the creation of darkness, sleep masks help stimulate melatonin production by tricking your body into thinking it's nighttime, making eye masks essential for anyone who's regularly sleeping during the day.
Quality, Restorative Sleep. REM sleep is how our bodies refresh and recharge. REM sleep helps you feel rested, and without it, we wake up feeling exhausted. Sleep masks help you achieve more restorative sleep by reaching healthy melatonin levels and promoting longer and more effective REM sleep.
Headache and Sinus Relief. Sleep masks comfortably conform to your face. Masks such as the Gravity Weighted Sleep Mask and the Serenity Spa Eye Mask apply a light amount of weight to ease migraines, headaches, and sinus pains.
Useful if You Work Nights. In some industries, working overnight can mean you have difficulty falling asleep in the bright morning sun. What's the solution? A comforting sleep mask that can gently rest over your eyes and create the darkness you crave to convince your brain that it's time to catch some ZzZ's.
What to Look for in a Sleep Mask
Sleep masks come in a wide range of shapes, styles, and colors. Let's break it down and determine which features matter the most to you when buying a sleep mask.
Do you prefer weighted sleep masks? Sleeping eye masks like the Gravity Weighted Sleep Mask have extra weight added to help alleviate stress, reduce anxiety, and help you relax. The weighted mask can help with sinus pressure, tension headaches, and migraines. Weighted masks create a soothing feeling to gently relax you to sleep.
Is the fill material travel-friendly? Knowing the fill material is important for one big reason: travel. For example, if the fill material is sand, you won't be able to take it on an airplane. Generally, if a mask is filled with rice or certain seeds, it's able to be carried on an airplane.
Is it designed for heating or cooling? Masks like the Serenity Spa Eye Mask incorporate heating and cooling into the design so that your mask can be more therapeutic while at the same time blocking out light and helping you fall asleep. Heating or cooling is an optional, nice-to-have feature that many people look for in an eye mask. Fill materials such as rice or certain seeds retain warm or cold temperatures for longer periods of time to relieve eye puffiness, sinus pains, headaches, or hot flashes.
Are you able to blink comfortably? Some masks make it hard to blink if they rest on your eyes. However, masks such as the 40 Blinks Mask allow for greater freedom of movement. If you have difficulty keeping your eyes solely closed before bed, choosing a mask with a raised eye space gives you the ability to blink freely without any restrictions.
What's the average cost of a sleep mask? Most sleep masks cost less than $20, but if you upgrade for improved luxury or added weights, you'll wind up spending a little more for your mask.
Sleep Mask Considerations for CPAP Users
If you currently use a CPAP machine to treat Obstructive Sleep Apnea, you should check to see if your mask cushion covers the bridge of your nose or uses a forehead support. Many sleep masks rely on a comfortable fit around your eyes to keep light out, which can get in the way with certain types of CPAP masks.
The solution? Consider using a nasal or nasal pillow mask. Many of the styles available will be easier to use while also wearing an eye mask. Here is a list of some suggested CPAP masks that would work well when paired with a sleep mask.
Nasal Pillow
Nasal
Benefits of Using a Sleep Mask
Sweet dreams are ahead with the addition of a sleep mask to your nighttime routine. Here are some of the dreamy benefits:
Easy to Take On-the-Go
Simple to Clean
Adapts to Fit Many Head Shapes and Sizes
Breathable Fabric to Keep You Comfortable
Creates Darkness to Help You Fall Asleep Any Time of the Day or Night
As you can see, there are plenty of options available to you if you want to use your sleep mask and your CPAP mask at the same time!
Sleep masks make a difference in your overall quality of sleep by allowing you to finally get the rest you deserve. Keep the light out and the sweet dreams in by adding a relaxing sleep mask to your bedtime routine.