When Sleep Apnea patients think of CPAP equipment they currently think of CPAP mask, CPAP machine and CPAP humidifier. But did you know about all the available CPAP supplies that could help boost the effectiveness and comfort of your Sleep Apnea therapy?
When it comes to your Sleep Apnea treatment there are lots of comfort features that can increase therapy contentment and therefore possibly improve treatment compliance.
In this article, we've compiled a list of the top 7 hidden CPAP supplies that will enhance your CPAP therapy.
Generic Outlet Bacteria Filter
The flu epidemic of 2018 affected thousands of Americans and broke records as being one of the worst epidemics in history. If you didn't get the flu chances are you know someone who did.
Between all the airborne illnesses and seasonal allergies, there are many ways people can get upper respiratory infections. Using a Generic Outlet Bacteria Filter will provide an added layer of protection to your CPAP therapy.
The Outlet Bacteria Filter is a generic filter used to purify the air and help prevent particles from entering the CPAP equipment during use. The filter attaches between either the machine's air or humidifier outlet and the CPAP hose. Most of the time these filters start at only $3.50 for one.   
Take a look at one of our CPAP.com reviews that was upvoted by our community as being the most helpful:
"Once I started using these additional filters, it really [showed me] the dust in my air flow. I have allergies so I think this additional filter is very helpful. I write the date I start using it on the filter with a sharpie so I will remember to change it out every 30 days. Excellent product."

Chinstraps
I'll admit, when I first saw a photo of a chinstrap, I was a little alarmed. It reminded me of something my third grade teacher would threaten me with if I didn't stop talking in class.
But after reading the reviews and actually feeling the softness of the chinstrap, I realized how beneficial this product really is. For those CPAP users who feel they are stuck using a heavier CPAP full face mask because they breathe through their mouth at night, these CPAP chinstraps are for you!
These CPAP chinstraps are designed to stop the mouth from dropping open during sleep and will allow you to use a nasal CPAP mask or nasal pillow CPAP mask.
Take a look at this review for the Ruby-Style Adjustable Chinstrap with Extension Strap:
"I've worn this for a couple of weeks now. Very comfortable. It was worth it to get the version with the extension straps. The velcro fastening system holds very well – sometimes almost too well, as it can be difficult to remove in the morning… It seems well made and it stays in place very well."

---
Related Reading: Buying Guide To Finding Your Best CPAP Chinstrap
---
SleePAP CPAP Pillow with Pillowcase
Sometimes wearing CPAP equipment can be tedious and cumbersome. That's why this CPAP pillow is such a great addition to your CPAP therapy.
The cut-outs on either side of the SleePAP pillow help prevent the mask exhalation ports from being blocked. If these ports are blocked then that could lead to the buildup of carbon dioxide in the mask.
The pillow cut-outs also allow you to position the CPAP mask and tubing according to your sleep position preference. This pillow is also available in a Hypoallergenic version.
Here is the review our customers voted as the most helpful:
"[At first] I was having a very hard time finding the right mask. What I didn't realize was that the pillow would make all the difference. I started with just nasal pillows and a chin strap and went all the way up to a full facial mask, but I could not get comfortable. Now that I have [this] pillow, I am back to using the nose pillows and chin strap only. The pillow provides just the right amount of support, the cut outs at the bottom and sides are perfect. The pillow cover is comfortable. The pillow is firm, but is not hard, and gives the right amount of support… I would highly recommend this pillow!"

CPAP Hose Lift System for Travel and Home
Does your CPAP hose tug at your mask or become entangled throughout the night? This can be a common problem for CPAP users, which is why the CPAP hose lift system is such a great invention.
It's compact but powerful and can keep a hose lifted throughout the night to reduce tugging on a CPAP mask during sleep. The CPAP hose lift system also comes easy to assemble with an elastic cord that runs throughout the system allowing for quick assembly and eliminates the risk of losing parts.
Weighing under half of a pound, it can easily be stored in a CPAP travel bag and is sturdy enough to use every night.
Here is the review our customers voted on as the most helpful:
"I have been struggling to get comfortable with my CPAP therapy. [There were general] problems and the CPAP hose always got in the way and even wrapped around my neck… When the CPAP Hose Lift System came in the mail I put it together in under a minute. Now I don't have to adjust where the hose is all night long. I very highly recommend this product. The CPAP Hose Lift System is very compact and lightweight. It comes with a travel pouch and fits inside my CPAP travel case easily which is great because I travel a lot."

LiquiCell Nasal CPAP Cushions
Do you want to reduce irritation and marks on the bridge of your nose caused by a CPAP mask? The LiquiCell Cushions may be your "go to" product then.
The LiquiCell Cushions act as a barrier between the mask and bridge of the nose to increase comfort and reduce irritation. They come in a 30 day supply and cost around $25. See what this user said about these liquid cushions:
"I had a lot of problems with masks – tried quite a few. The only one that fit well leaves a mark in the bridge of my nose that takes most of the day to fade away. These don't completely eliminate the mark but get very close and helps create a good seal with the mask."

Aromatherapy for CPAP Machines Basic Starter Pack (Pur-Sleep)
This aromatherapy starter pack was developed especially for Sleep Apnea patients to use with CPAP machines. This set is affordable (starting around $26), easy to setup and may help CPAP users relax before falling asleep.
To get started, simply place the diffuser in front of your CPAP machine filter, add a few drops of essential oil on the diffusion pad and then use your CPAP equipment as you normally would.
The Pur-Sleep Diffuser will lightly scent the air with one of several fragrances as the air is drawn into the CPAP machine. Aromatherapy allows the sense of smell to help improve emotion, comfort, and compliance.
Here is what our "most helpful" user review had to say:
"The people who make this basic starter kit did a good job being thoughtful as to what you might need. Each pad come in its own separate bag that you can label so you don't mix up your scents. Cute little ceramic tray to hold your pad and bottle of scent. Look, there is no magic to aromatherapy it is just simply relaxing to smell something gently pleasant while going to sleep. It keeps the routine of preparing your CPAP for bed from being the same old boring routine. Now I get to drop some scent on a pad and hope I don't fall asleep too fast. I enjoy using it."
Please note: Do not put the essential oil in the water chamber of your CPAP machine, make sure to always put it on the included diffuser pad.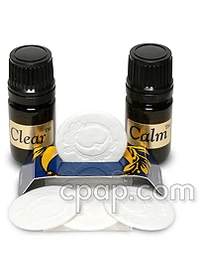 CPAP Vapor Clear Sinus Blaster
The Vapor Clear Sinus Blaster uses the power of Eucalyptus and Lavender to help improve sinus congestion and this product comes with everything you need to start using it right away.
The Vapor Clear Sinus Blaster is typically priced around $20 and includes:
One Diffuser Tray Stand

Four Disposable Fiber Diffusion Pads

Two Ziploc® Storage Bags

One 5ml bottle each of Essential oils: Clear and Calm.
Check out this user review:
"Great product, some [have said] you lose the smell halfway through the night [but] you don't, you may get use to it. But after getting up and then going back to bed. It's still there. I love it!"
What's Your Go-To CPAP Supply?
I hope this list has introduced you to some new comfort features and supplies that will boost the effectiveness and satisfaction of your Sleep Apnea therapy. I know we haven't included everything, so what about you? Do you have any tried and true CPAP supplies that you can't live without?
Let us know what they are in the comments or let us know if you have tried any of these that we have mentioned. And don't forget to signup and receive our twice-a-week newsletters.