Take 15% off
your order of $200+ by subscribing!
Join Today!
Home

/

Pur-Sleep
CPAP Vapor Clear Sinus Blaster
---
Order ships today if placed by 4PM CST
Vapor Clear Sinus Blaster
Overview
Pur-Sleep is a line of holistic aromatherapy products designed specifically for use with CPAP machines. Simply set up the Diffuser in front of the CPAP filter, place a few drops of Essential Oil on the Diffusion Pad and use your CPAP equipment as you normally do. The Pur-Sleep Diffuser lightly scents the air with one of several fragrances as the air is drawn into the CPAP machine. Vapor Clear uses the power of Eucalyptus and Lavender to help improve sinus congestion.
The Vapor Clear: Sinus Blaster includes everything you need to start experiencing the benefits of Pur-Sleep Aromatherapy with your CPAP/BIPAP Machine.
Included in package:
One Diffuser Tray Stand
Four Disposable Fiber Diffusion Pads
Two Zip Lock Storage Bags
One 5ml bottle each of Essential oils: Clear and Calm.
Clear
'Clear' is made with pure peppermint, lemon, lime, and clary sage essential oils. It has a remarkably pleasant and familiar aromatic quality and can be characterized as minty-fresh, sweet, clear, and penetrating. People have reported success using this blend to help clear up mild congestion and also waking up with a particularly invigorating feeling.
Calm
The Calm scent is made from a blend of eucalyptus, French lavender and rosemary. A natural menthol cooling sensation helps soothe and relax users. Calm has no camphor, but provides a mild natural menthol cooling sensation.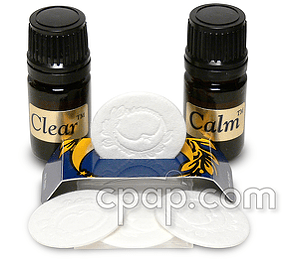 CPAP Vapor Clear Sinus Blaster
---