Home

/

Arden Innovations
CPAP Hose Lift System for Travel and Home
BY Arden Innovations
Item #CPAPHLV5.5
---
Order ships today if placed by 4PM CST
CPAP Hose Lift Travel System
Overview
In 2017, the CPAP Hose Lift System for Travel and Home released version 5.5 and is now in stock. Version 5.5 is 12% lighter than earlier versions of the CPAP Hose Lift System, making it a great option for travel and home use. The system is compact yet sturdy enough to keep a hose suspended to reduce tugging on a CPAP mask during sleep.
The CPAP Hose Lift System for Travel and Home is a compact suspension system suitable for travel. An elastic cord runs throughout the system allowing for quick assembly and eliminates the worry of losing parts while on the go. Weighing under half of a pound, it can easily be stored in a CPAP travel bag or other luggage. Though small and lightweight, it is also suitable for use at home on a nightly basis.
In 2017, the system was updated to version 5.5 which reduces weight by 12%, improves portability (smaller form factor), and has a 14% larger base. CPAP.com is now shipping version 5.5.
The CPAP Hose Lift System for Travel and Home comes packaged with a mask hook that allows for a mask to be placed on the post when not in use. The hose loop accommodates CPAP tubing even when using a SnuggleHose or other hose covers. When assembled the system measures 41 inches tall.
To use, simply unfold the system and connect all pieces using the cord as a guide. A change from earlier versions, the base of the system is attached by the elastic cord. The base measures 6.3" x 7.5" x 3/8" and is placed between the mattress and box spring of a bed. The hose can then be threaded through the hose loop and positioned as desired. The manufacturer includes a color instruction sheet with the product which can be viewed here.
30 Day Satisfaction Guarantee: If not completely satisfied with the product, the manufacturer offers a 30 day money back guarantee. Simply contact CPAP.com for Return Authorization and instructions within the first 30 days of purchase.
To read more information and reviews about the previous version click here: CPAP Hose Lift System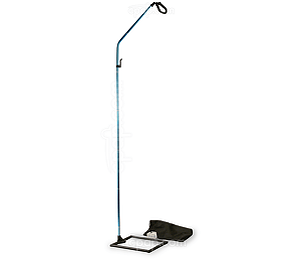 CPAP Hose Lift System for Travel and Hom...
---