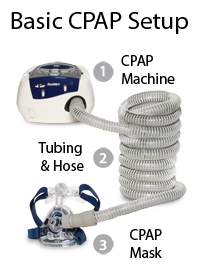 Parts Of A CPAP System
A basic CPAP setup consists of a CPAP machine, hose and CPAP mask. The CPAP machine and CPAP mask are attached to either side of the hose. The CPAP machine blows air into the hose and through the mask to you.
Equipment FAQs
Yes, all CPAP masks and CPAP humidifier chambers either contain BPA or their manufacturer has not released a statement calling their products BPA free. Here is a statement released by Respironics:

Government of Canada Takes Action on Another Chemical of Concern: Bisphenol A

April 25th 2008

To Whom It May Concern

This document represents Respironics' position regarding the use of Bisphenol A in Respironics Sleep and Home Respiratory Devices. On April 18, 2008, the Government of Canada, banned the use of Bisphenol A (BPA) in polycarbonate baby bottles, claiming that the exposure to BPA on newborns and infants up to 18 months of age, could potentially present a health risk to this patient group when the polycarbonate baby bottles are exposed to high temperatures.

At this time, we are able to provide the following information to our customer: NONE of our Sleep and Home Respiratory products which are either breathable or skin contacting are intended for use with newborns or infants under 18 months of age. Therefore, Respironics is in compliance with Health Canada's position for exposure for the identified at risk patient population.

Although Health Canada's restriction for BPA does not include products used for ages above 18 months at this time, Respironics is evaluating its product portfolio and will take the appropriate actions to determine and mitigate any potential risk from use of its products or potential exposure to BPA. It should be noted that NOT all polycarbonate resins contain BPA. In response to the direction provided by Health Canada's device licensing division, Respironics will be evaluating all of our Class II and III medical devices to determine if the resins used in the manufacturer of its products contain BPA.

Further, none of our products or accessories using polycarbonate are labeled for exposure.

In closing, it is Respironics position that our products do not pose any increased risk of exposure to BPA for our users and thus our products remain safe for use.

If you have any further question regarding this topic, please feel free to contact me at zita.yurko@respironics.com or at 724-387-4120.

Regards,

Zita Yurko Director, Regulatory Affairs Sleep and Home Respiratory Division Respironics, Inc.

To prepare for your international travel, be sure to:

Check the voltage of your destination. You may need a plug adapter for your machine.
It is recommended to pack spare parts for your equipment.
Review the general Travel Tips found in this section.
It may be necessary to bring a travel-sized surge protector with you when you travel. Some countries have issues with power surges that can damage your machine. It's hard to say which country has power surges and which ones don't, so it's helpful to be prepared and bring a surge protector.
While CPAP.com can ship internationally, we cannot guarantee any delivery date, and you may not want to incur the additional costs of having a replacement sent to your hotel.

Before assuming the worst, ask yourself these questions to help resolve common issues with CPAP equipment!




Did this issue recently start? Or has it been ongoing?

This is one of the most important questions to ask because knowing when a problem started is critical to isolating the cause of a problem with your device.

Recent problems likely have a cause that could be the result of a recent accident or change to your therapy. Ongoing issues could mean the device is working properly, but there's something about how the device functions that could be bothering you.

For these reasons, it's important to ask yourself when the problem first appeared and try to remember everything that happened before, during, and after the issue first started.




What changes have happened recently?

Here are some questions to ask yourself. We'll go into greater detail as we discuss each event.

Did you get a new mask or a new machine?

Changing therapy equipment is a big change. Every device is different, and a new device can create very positive or possibly negative results. When changing devices, the machine settings may need to be adjusted to give you the optimum relief you're looking for.

What you get will depend a lot on your specific circumstances, and it could be your original device was better for you than your new one.

Are you new to therapy?

If you're new to therapy, chances are, you'll need to get comfort settings tweaked in order to make therapy more comfortable. Many people struggle with therapy in the beginning. This is both common and normal, and most likely, your issue can be resolved.

Has the weather changed?

Changes in the weather, temperature, and especially humidity can mean changes to how effective your therapy will be. If it's wintertime and your air is dry, you may need to increase the humidity of your therapy air to have a better experience. If it's summertime and the air is more humid, you'll need to turn down the humidity on your humidifier.

Did a recent life-changing event happen?

Changes to your life or body can directly impact how your therapy progresses. Something as simple as recovering from surgery or a change in weight can mean your pressure setting will need to change. You may also need to make adjustments if you're extra stressed or if you have a glass of wine before bed.

When was the last time you replaced items that require replacing?

All CPAP machines have parts that will wear out and need to be replaced. These include filters, hoses, cushions, and water chambers. A dirty filter can increase the noise from a machine, as can worn out hoses and cushions. You may also need to replace your water chamber if you regularly use tap water instead of distilled water for your machine. Tap water can leave behind hardened mineral deposits, and it can reduce the lifespan of your humidifier water chamber.
Equipment Video
More Videos
CPAP Users Say
CPAPtalk.com CPAP User Discussions
Did You Know?, Equipment
Every mask is compatible with every machine.
All machines offer ramp capabilities. With ramp, your machine will build up to your pressure setting, instead of starting at full pressure
Humidifiers add moisture to the air you breathe so your airways don't get dried out from the pressurized air.
Machine filters must be replaced regularly.
If you are unsure about what part you need, view our part finder!
Equipment Articles
CPAPtalk.com Wiki Articles
Research Articles