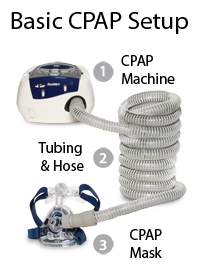 Parts Of A CPAP System
A basic CPAP setup consists of a CPAP machine, hose and CPAP mask. The CPAP machine and CPAP mask are attached to either side of the hose. The CPAP machine blows air into the hose and through the mask to you.
Equipment FAQs
Machines come with a six foot hose, power cord, at least one filter, and manuals. Most manufacturers include a carrying case which is designed specifically for their equipment. CPAP, APAP, and BiPAP machines do not come with a delivery system or mask. CPAP masks must be purchased separately.

To see the list of what specifically comes with each machine, you can Browse for a machine. Then on the product page, click the "Specs" tab to see a full list of what comes with the machine.



The only care a CPAP, APAP or BiPAP machine requires is to clean or change the filters at the air intake. This keeps the internal parts from accumulating dust. Fine paper filters should be changed out every 30 days, or when they appear soiled. Foam washable filters should be rinsed with clear running water once a week, allowed to air dry, and reinserted.

Here are some other suggested actions to care for your machine:

Keep the area around your machine clean by removing any dust from the area to improve the air quality delivered to your machine and to you.
Keep the air intake of the machine unblocked. Curtains, bedding, and papers can easily block the air intake of your machine, reducing the airflow.
If a humidifier is used with your therapy, do not pick up the machine with the humidifier attached. With most machines it is easy to spill water from the humidifier chamber into the machine causing damage. Manufacturer warranties are voided by water damage to the machine. To avoid this, remove the chamber from the humidifier and then remove the humidifier from the machine rather than transporting them together.
If a humidifier is used, empty the water from the chamber every morning. Accidents happen. If a family pet or family member moves the machine and humidifier with water in the chamber it is more likely that water could be spilled into your machine. Water damage to a machine voids the manufacturer warranty.

Replacement parts such as: mask cushions, headgear, headgear clips, and others are available for many masks.

To find parts which are compatible with your mask, or to find which parts of your mask are replaceable, do the following:

Use our Replace Part Wizard to identify your mask and see all the related parts.
Browse for your mask and then click the "Replacement Parts" button on your mask's product page.
Any mask will work with any machine, with one important exception. The ResMed AirMini is only compatible with certain ResMed CPAP masks. Compatible masks for the AirMini are as follows:

ResMed AirFit™ N20 Nasal Mask
ResMed AirFit™ F20 Full Face
ResMed AirTouch™ F20 Full Face
ResMed AirFit™ P10 Nasal Pillow

When considering another CPAP, APAP or BiPAP machine from ResMed or any other manufacturer, mask compatibility extends to all brands. The AirMini uses non-standard tubing to connect the machine to the mask, and is the primary reason why other masks won't work with the AirMini. Despite this issue, many of our customers consider the AirMini to be an excellent machine.

Yes, all CPAP masks and CPAP humidifier chambers either contain BPA or their manufacturer has not released a statement calling their products BPA free. Here is a statement released by Respironics:

Government of Canada Takes Action on Another Chemical of Concern: Bisphenol A

April 25th 2008

To Whom It May Concern

This document represents Respironics' position regarding the use of Bisphenol A in Respironics Sleep and Home Respiratory Devices. On April 18, 2008, the Government of Canada, banned the use of Bisphenol A (BPA) in polycarbonate baby bottles, claiming that the exposure to BPA on newborns and infants up to 18 months of age, could potentially present a health risk to this patient group when the polycarbonate baby bottles are exposed to high temperatures.

At this time, we are able to provide the following information to our customer: NONE of our Sleep and Home Respiratory products which are either breathable or skin contacting are intended for use with newborns or infants under 18 months of age. Therefore, Respironics is in compliance with Health Canada's position for exposure for the identified at risk patient population.

Although Health Canada's restriction for BPA does not include products used for ages above 18 months at this time, Respironics is evaluating its product portfolio and will take the appropriate actions to determine and mitigate any potential risk from use of its products or potential exposure to BPA. It should be noted that NOT all polycarbonate resins contain BPA. In response to the direction provided by Health Canada's device licensing division, Respironics will be evaluating all of our Class II and III medical devices to determine if the resins used in the manufacturer of its products contain BPA.

Further, none of our products or accessories using polycarbonate are labeled for exposure.

In closing, it is Respironics position that our products do not pose any increased risk of exposure to BPA for our users and thus our products remain safe for use.

If you have any further question regarding this topic, please feel free to contact me at zita.yurko@respironics.com or at 724-387-4120.

Regards,

Zita Yurko Director, Regulatory Affairs Sleep and Home Respiratory Division Respironics, Inc.

To prepare for your international travel, be sure to:

Check the voltage of your destination. You may need a plug adapter for your machine.
It is recommended to pack spare parts for your equipment.
Review the general Travel Tips found in this section.
It may be necessary to bring a travel-sized surge protector with you when you travel. Some countries have issues with power surges that can damage your machine. It's hard to say which country has power surges and which ones don't, so it's helpful to be prepared and bring a surge protector.
While CPAP.com can ship internationally, we cannot guarantee any delivery date, and you may not want to incur the additional costs of having a replacement sent to your hotel.
Equipment Video
More Videos
CPAP Users Say
CPAPtalk.com CPAP User Discussions
Did You Know?, Equipment
Every mask is compatible with every machine.
All machines offer ramp capabilities. With ramp, your machine will build up to your pressure setting, instead of starting at full pressure
Humidifiers add moisture to the air you breathe so your airways don't get dried out from the pressurized air.
Machine filters must be replaced regularly.
If you are unsure about what part you need, view our part finder!
Equipment Articles
CPAPtalk.com Wiki Articles
Research Articles