Take 15% off
your order of $200+ by subscribing!
Join Today!
Home

/

Apex Medical
Apex Tubing Sleeve for 6 Foot CPAP Hoses
BY Apex Medical
Item #SF00020
---
Order ships today if placed by 4PM CST
Product
Overview
Apex Medical Apex Tubing Sleeve for 6 Foot CPAP Hoses is a fabric wrap for standard and slim 6 foot CPAP hoses. Cover the CPAP hose with the sleeve to help maintain warm air inside the tube, while reducing the noise of the hose throughout the night.
The Apex Tubing Sleeve for 6 Foot CPAP Hoses from Apex Medical features two hook and loop tabs located at each end of the sleeve to keep the hose in position. The soft fabric acts as a barrier against the cool air in the room, helping to prevent condensation and rainout in the hose.
Features
Simplistic Design
Helps Reduce Rainout
Increase Comfort

Simplistic Design

Simply cover the CPAP hose by opening one end of the sleeve and guiding the hose to the other end. Pull the white tab around the circumference of the hose, and fasten the tab into place at the base of the hose cuff. With the hose secure on one side, follow the same steps and secure the hose at the other end. No tools are necessary!

Helps Reduce Rainout

In cooler environments, the warm air traveling from the humidifier through the tube begins to cool and can create rainout or excess water buildup in the hose. Thread the hose through the sleeve to cover it entirely and to maintain a warm atmosphere as the moisture travels to the user.

Increase Comfort

To create a softer sleeping environment, the fabric cover is designed to diminish the potential noise of the hose ridges moving against a hard surface. As a added benefit, the cloth may protect the hose from pets and objects. Wrap the hose in the Apex Tubing Sleeve for more peaceful sleep.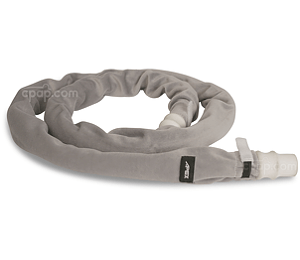 Apex Tubing Sleeve for 6 Foot CPAP Hoses
---