Home

/

Bedding

/

Contour Products
Contour Mattress Genie - King Size
BY Contour Products
Item #58-400R
---
Order ships today if placed by 4PM CST
Mattress Genie Adjustable King Bed Wedge
Overview
As Seen on TV!
Have you always wanted an adjustable bed, or bed lift system, but held back because of the high price of some of these systems? The Contour Mattress Genie - King Size is an inexpensive way to get the adjustable king sized bed of your dreams and works well with every mattress, except for waterbeds.
Sleeping in an elevated position can help reduce sleep apnea symptoms by enabling gravity to work in your favor, naturally opening up the airway in ways a normal bed cannot. Elevated sleeping also helps with other conditions too, like bronchitis; and can even be useful when recovering from surgery!
Looking for the Mattress Genie Queen Size? Use the link to view the item!
The Mattress Genie - King Size can help improve your sleep, and reduce snoring. Did you know? Raising the mattress can also help with these other conditions as well:
Back Problems
Bronchitis
Asthma
Intracranial Pressure
Acid Reflux
Heartburn
Snoring
As you can see, if you have problems breathing, snoring, or Sleep Apnea; it only makes sense to have an adjustable bed wedge.
With the Contour Mattress Genie - King Size there's finally an affordable solution that fits almost every budget. Think of this product as an aid to your CPAP machine therapy, but not a substitute or replacement.
Disclaimer
While this product may be helpful for certain health conditions, it is in no way guaranteed or intended to diagnose or treat any illness or condition and your actual experience with this product may be different than what is described.
Features & Benefits
45-Day Product Guarantee!
Helps Reduce Snoring & Improve Sleep Apnea Symptoms
Works with Every Mattress Except Waterbeds
No Headboard or Footboard Required
Raises the Mattress Completely in Under a Minute - Up to 26 inches!
Works Well Up to 1,000 Pounds
Commercial Strength Air Bladder
Try it for 45 Days - Risk Free!
Try it risk-free for up to 45 days from the date of purchase to see if the Mattress Genie is right for you. If you're not happy with it, send it back for a full refund! No questions asked.
Available in King and Queen Sizes
CPAP.com is currently carrying the King Mattress Genie (featured here) and Queen Mattress Genie, which are designed to fit the width of a King or Queen Size Bed, respectively.
Helps Reduce Snoring & Can Improve Sleep Apnea Symptoms
Sometimes getting a better night's sleep can be as simple as changing your sleeping position. For instance, laying flat on your back is the worst possible position for someone with Sleep Apnea. In that position, gravity works against you, blocking your airway. But if you elevate your body while sleeping, your airway will naturally open up. This can help your CPAP machine not have to work as hard to give you the same therapy.
Works with Every Mattress
The Mattress Genie works well with any style of mattress, except for waterbeds. No matter how your mattress is manufactured, your Mattress Genie is designed to handle it. CPAP.com is carrying Queen and King sizes.
No Headboard or Footboard Required
Because the Mattress Genie uses an inflatable bladder to raise and lower the mattress, you won't need a headboard or footboard. It's a lot more versatile than other designs and can do more with less!
Raises the Mattress Completely in Under a Minute
It doesn't take long for the Mattress Genie to elevate. By using simple controls, you can raise or lower the mattress quickly and efficiently, in under a minute, without waiting!
Works Well Up to 1,000 Pounds
No matter how big or heavy your mattress is, the Mattress Genie can handle it. With a maximum weight limit of 1,000 pounds, the Mattress Genie can hold the weight of the mattress and multiple people in the same bed.
Commercial Strength Bladder
Both the motor and the mattress bladder are made of commercial-grade materials so that the process of inflating can be done quickly and effectively. These are durable and tested to the strictest requirements.
View More

+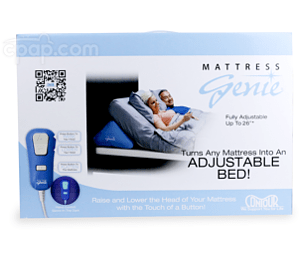 Contour Mattress Genie - King Size
---