Home

/

JMark Unlimited
CPAP Bedside Holder
BY JMark Unlimited
Item #cpapholder
---
Order ships today if placed by 4PM CST
Product
Overview
The CPAP Bedside Holder makes it possible to free up space on a nightstand or bed side table and still keep the CPAP secure and close at hand. Simply place the CPAP or BiPAP machine in the tray after slipping the support bed board between the mattress and box springs. Free up space and guard against accidental water damage.
The CPAP Bedside Holder is the answer to a question asked by many CPAP users - where do I set the machine? Should it sit on the floor? The CPAP Holder provides a ready made location that can be used with the majority of machines and beds. The machine is close by making the most of hose length and allowing for easy access to the controls of the machine.
The plastic tray and support bed board of the CPAP Holder are easy to assemble and use. Attach the tray to the bed board using the included bolts and washers. In the case of a humidifier water spill, the plastic tray sides reduce the chances of water damage to furniture and flooring. The bed board is slipped between the mattress and box spring at the head end of the bed. Secure the machine using the included Velcro strap.
Compatible Machines
ResMed - AirSense 10 Machines, AirCurve 10 Machines, S9 Machines, and S8 Machines
Respironics - DreamStation Machines, System One & 60 Series Machines , M Series Machines, and Legacy RemStar Machines
Fisher & Paykel - ICON Premo CPAP Machine, ICON Premo Auto CPAP Machine, and SleepStyle Machines
Somentics - Transcend miniCPAP Machines
Apex Medical - XT Fit CPAP Machine, XT Auto CPAP Machine, and iCH Auto CPAP Machine
HDM - Z1 Travel CPAP Machine and Z1 Auto Travel CPAP Machine
3B Medical - Luna CPAP Machine and Luna Auto CPAP Machine
Curative Medical - Curasa CPAP Machine and Curasa Auto CPAP Machine
PMI Probasics - Zzz-PAP Machines
DeVilbiss - IntelliPAP Machines and IntelliPAP 2 Machines
Cardinal Health - CareFusion Machines and PureSom Machines
Aeiomed - Everest Machines
Puritan Bennett - GoodKnight Machines and Sandman Machines
A Phillips Head screwdriver is needed for assembly and is not included with this product.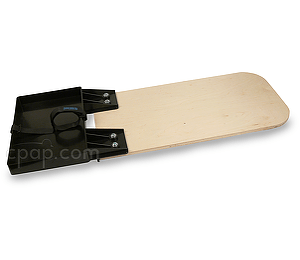 CPAP Bedside Holder
---