Take 15% off
your order of $200+ by subscribing!
Join Today!
Home

/

Cleaning

/

AG Industries
Tube Cleaning Wand with Cleaning Pads
BY AG Industries
Item #AG-CLN-WA
---
Order ships today if placed by 4PM CST
Product
Overview
The tube is the pathway between the machine and mask - why not clean and maintain it too? The Tube Cleaning Wand does the job!
From AG Industries comes the Tube Cleaning Wand, ideal for easily maintaining a clean and healthy 22mm hose environment using a pre-moisten pad. The wand is in 3 sections, packaged with a 7 day supply of cleaning pads. Additional pads can be purchased separately.
How it Works:
Assemble the 3 wand sections following the included instructions.
Attach a pre-moistened pad to the tapered pad fitting.
Disconnect the CPAP hose from the mask and machine.
Insert the wand into one end of the tube, slide the wand back and forth in short motions down the length of the tube.
Remove the wand, and repeat from the other end of the tube if needed.
Remove and dispose of the cleaning pad.
If desired, disassemble the wand for storage or travel.
Dimensions:
Overall Length - Including Handle: 41 1/2 inches
Wand Length - Excluding Handle: 38 1/2 inches
Section A Length - Handle: 15 inches
Section B Length - Mid Section: 15 inches
Section C Length - Tapered Pad Fitting: 14 inches
Handle Width at Widest Part: 5/8 inch
Wand Thickness: 1/4 inch
Pad Diameter: 2 1/2 inch
Pad Thickness: 1 mm
PLEASE NOTE:
The cleaning pad MUST BE moist at the time of use. If the pad is used dry there is a possibility of the pad and wand sticking inside the hose.
Each cleaning pad should be used one time only.
The Tube Cleaning Wand with cleaning pad on the end fits easily in a standard diameter 22mm hose. The Tube Cleaning Wand is NOT compatible with:
Any Thin or slim 15mm tubing
ClimateLine™ Max Oxy Air Tubing with Supplemental Oxygen Port
The Tube Cleaning Wand IS compatible with the Hybernite Rainout Control System, Thermosmart Heated Hose for 600 Series CPAPs and ThermoSmart Heated Hose for ICON Series CPAP Machines.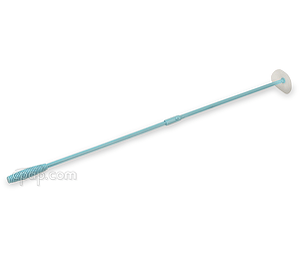 Tube Cleaning Wand with Cleaning Pads
---