Home

/

DeVilbiss
IntelliPAP 2 Heated Humidifier with Pulse Dose Humidification
BY DeVilbiss
Item #DV6HHPD
---
Prescription required
Free Shipping
Order ships today if placed by 4PM CST
IntelliPAP 2 Humidifier w/Pulse Dose
Overview
The IntelliPAP 2 Heated Humidifier with Pulse Dose Humidification by DeVilbiss is a innovative humidifier for use with the IntelliPAP 2 machines. The humidifier provides warm moist air to help increase comfort during therapy. The Pulse Dose feature provides moisture during inhalation only, creating benefits such as reduced rainout, increased water availability, and lower hose costs.
The Pulse Dose Humidifier for IntelliPAP 2 CPAP Machines is a heated humidifier that adds moisture to therapy air during inhalation for increased comfort. The humidifier connects directly to an IntelliPAP 2 machine without need of extra hoses.
Features
Pulse Dose Humidification
Integrated Design
375 mL Water Chamber
Pulse Dose Humidification
Pulse Dose technology allows therapy air to travel through the humidifier to collect moisture during inhalation to provide comfort while breathing in, however during exhalation will bypass the humidifier. During exhalation, dry air travels through the hose clearing out moisture to help reduce rainout. Pulse Dose will help increase the amount of time water in the chamber can be used, and also reduces overall power consumption. The humidifier can be set to 0-5 with 0 being no heat and 5 being the most.
Integrated Design
The IntelliPAP 2 Pulse Dose Humidifier integrates with the machine by connecting directly to the bottom of the machine. No extra hoses are needed to connect, simply ensure the plug is not covering the bottom air outelt, then connect the machine to the humidifier. The vertical connection design leaves an overall small footprint on a nightstand.
375 mL Water Chamber
The water chamber for the Pulse Dose humidifier holds 375 mL of water, which combined with the Pulse Dose process provides hours of humidified air with therapy. The chamber comes apart for easy cleaning and maintenance and can be placed in the top rack of a dishwasher weekly.
Looking for a standard heated humidifier? See the IntelliPAP Standard Heated Humidifier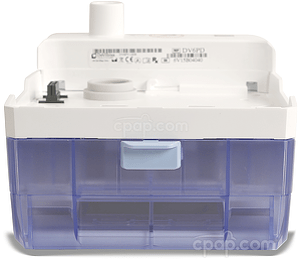 IntelliPAP 2 Heated Humidifier with Puls...
---