Take 15% off
your order of $200+ by subscribing!
Join Today!
Home

/

Roscoe Medical
Digital Finger Pulse Oximeter
BY Roscoe Medical
Item #RMI-POX2D
---
Order ships today if placed by 4PM CST
Product
Overview
Engineered with a lightweight and compact design, the Digital Finger Pulse Oximeter is simple to use and includes the latest oximetry technology in a spot check device. This integrated all-in-one unit is very durable and will provide accurate simple measurements.
Though the company who manufactures this item may change, it will always have the same features, though packaging may vary.
The Digital Finger Pulse Oximeter is sold as over-the-counter and does not require a doctor's prescription.
Easy operation for instant real-time spot checks

Large LED Display with low battery notification

Approximately 30 hours of continuous run time with 2 AAA batteries (included)

Two AAA Batteries are included in the package for immediate use

Auto Power Off: Saves battery life by turning off the unit if no finger is detected in the device for more than 8 seconds

Pulse rate display mode bar-graph display

Oxygen saturation rate of 35% to 99% and a pulse rate range of 30 to 235 BPM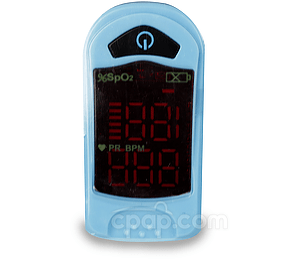 Digital Finger Pulse Oximeter
---