Take 15% off
your order of $200+ by subscribing!
Join Today!
Home

/

Fisher & Paykel
Fisher & Paykel Humidification Starter Kit 900HC105
BY Fisher & Paykel
Item #900HC105
---
Order ships today if placed by 4PM CST
Need replacement parts & accessories?
Shop Now
900HC105 Humidification Starter Kit
Overview
The Fisher & Paykel Humidification Starter Kit is a kit designed to introduce humidification to CPAP therapy. This starter kit acts as a passover humidifier in which the CPAP air will collect moisture as it moves through the filled chamber.
The Humidification Starter Kit is designed to make it easy for CPAP or bi-level users to be introduced to humidification. The kit can be used on its own as a cold passover humidification system. If higher levels of humidification are required, it can be easily upgraded to a heated humidification system. The HC150 Heated Humidifier and HC325 Humidification Chamber are easily attached to the 900HC007 Folding Tray.
The Humidification starter kit includes:
900hc007 Folding Tray
2 HC325 Water Chambers
900hc008 Tube
Connectors and Mounting Screws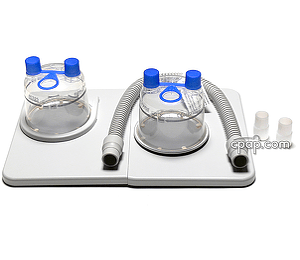 Fisher & Paykel Humidification Starter K...
---