Home

/

Innotech
6 Foot Collapsible Travel CPAP Hose (19mm Diameter with 22mm Ends)
---
Order ships today if placed by 4PM CST
6 Foot Collapsible Travel CPAP Hose
Overview
Is it difficult to pack the CPAP hose into a suitcase? Innotech's 6 Foot Collapsible Travel CPAP Hose (19mm Diameter with 22mm Ends) is a standard CPAP hose designed to compress down to 10.5 inches for travel. While the unique design is ideal for packing into a suitcase for travel, this standard 6 foot long 19mm non-heated hose with 22mm cuffs is for use at home as well. The tube is compatible with all CPAP, APAP, and BiPAP machines.
Uncoil Innotech's 6 Foot Collapsible Travel CPAP Hose (19mm Diameter with 22mm Ends) and attach it to the machine to receive CPAP therapy, as is done with a traditional hose. After use, quickly recoil it into a 10.5 inch tube and carry with ease. The caps which bookmark the coiled tube have a small, black strap on either end, making the hose easy to carry. With only two pieces, this tube uses a simple design to create a more travel friendly CPAP tube.
Features
Durable for Travel
Easy-to-Use Design
Durable for Travel
This travel friendly hose is made from durable, plastic material which holds firm against indentations and resists the friction of the triangular clips located on the interior rod as it collapses into a 10.5 inch tube.
Easy-to-Use Design
The word Open and an arrow are embossed into one of the grey caps to indicate which direction the cap needs to be turned in order to open the hose. Once the cap has been turned, the tube will begin expanding. Gently pull the hose outward to open all coils. Once the hose is fully uncoiled, remove the other cap and the interior rod, and the hose is ready for use.
To collapse the hose, first grab the interior rod and place it at the base of the hose cuff. Begin gently pulling each coil of the triangular clips on the rod. Please Note: Keep a firm but soft grip on the material as it collapses, otherwise the hose will spring forward. Once the material is fully compact, place the other grey cap on the end of the unoccupied hose cuff. Turn the cap the opposite direction of that which opens the hose. Now, you are ready to travel with your hose!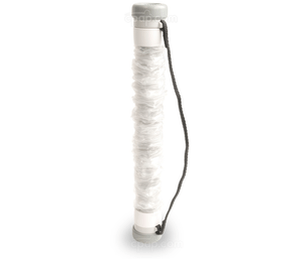 6 Foot Collapsible Travel CPAP Hose (19m...
---