Take 15% off
your order of $200+ by subscribing!
Join Today!
Home

/

Medistrom
Medistrom Pilot-12 Lite Battery and Backup Power Supply
BY Medistrom
Item #P12MPLBP1
---
Order ships today if placed by 4PM CST
Need replacement parts & accessories?
Shop Now
Medistrom Pilot-12 Lite Battery
Overview
When you take flight, hit the trail, or otherwise go off-grid—take your CPAP with you! The Medistrom Pilot-12 Lite is specifically engineered for 12-volt devices, including leading Philips Respironics CPAP machines, like the DreamStation Auto and the System One 60 Series. It's able to provide enough power for at least a night of therapy. It's also fully FAA compliant and keeps your therapy running even on a transatlantic flight.
The Pilot-12 Lite can help during storm season, winter storms, or any time the power goes out while you're sleeping. It can detect a loss of power and automatically come on while you're sleeping. Your therapy won't miss a beat!
This product is not currently available for expedited shipping within the continental U.S. Regular ground shipping will be the only options. Other options may be available for non-continental U.S. residents.
The Medistrom Pilot-12 Lite is designed to provide one full 8-hour night of therapy for popular CPAP models like the DreamStation Auto or the System One 60 Series on a pressure setting of 10 and without using a humidifier.
The Medistrom Pilot-12 Lite is compatible with the following machines:
Philips DreamStation Line of Machines (Excluding the DreamStation Go)
System One 60 Series
IntelliPAP*
IntelliPAP 2*
Z1 Auto*
Z1 Standard CPAP*
Z2 Auto*
Z2 Standard CPAP*
*Requires the Pilot-12 Lite Mixed Kit sold separately. The original IntelliPAP power supply will not charge the battery. Consider purchasing the DreamStation Power Supply and this power cord to charge the Pilot-12 if you have an original IntelliPAP device.
Features and Benefits:
Provides Enough Power for 1 - 2 Nights
FAA Compliant for Use In-Flight
Use as a Travel Battery or Convenient Battery Backup
Simple Controls and Easy to Operate
Powers the DreamStation Auto Without Needing a Special Adapter
Charge the Battery Using the CPAP Machine Power Supply
Convenient USB for Charging Your Phone or Tablet
Powers Your DreamStation or Z2 for 1 - 2 Nights
The Pilot-12 Lite is designed to help you take your therapy with you when you fly or travel, powering your DreamStation or compatible device for 1-2 nights while you're away. Sleep soundly on a flight from New York to London, or go camping! The possibilities are endless! Run times vary depending on things like altitude and whether or not you're using accessories like a humidifier or heated tube. Battery run times in ideal conditions are typically 8 -16 hours.
These run times are fairly consistent across the list of compatible devices, like the DreamStation, Z2, IntelliPAP, and other models.
FAA Compliant for In-Flight Use
The power pack is FAA compliant, meaning it can be used in-flight, meeting all FAA and TSA requirements. You'll breeze through security and be able to take it to any airport in the world, and hopefully get better sleep no matter where life takes you.
Works as a Battery Backup
When storms approach, and you risk losing power, don't worry. In the event of an outage, the Pilot-12 Lite senses the loss of power and kicks in automatically. You won't have to do anything extra.
Simple Controls and Easy to Operate
You won't need to be extremely tech-savvy to get your machine working, just get the appropriate cord and plug in! There's no requirement for heavy and expensive inverters to make this battery work with your therapy. Just plug in and it goes.
Comes With the Right Cable for DreamStation Auto
By purchasing this battery backup, you'll get the correct attachment for the DreamStation Auto without needing to buy anything else. The included attachment will also work for the System One 60 Series. You'll need to purchase the correct cable separately for the Z1 or Z2, or the IntelliPAP or IntelliPAP 2.
Charge the Pilot-12 Lite Using Your Machine's Power Supply
You'll notice that the Pilot-12 Lite doesn't come with its own power supply. That's because the Pilot-12 Lite uses your machine's power supply for charging the battery. This way you don't have to pay for an extra power supply, and this helps keep the cost down. For the Z1 and Z2 power supplies, you'll need a short charging adapter cable to connect the power supply to the battery. If you own an original IntelliPAP, you'll need to purchase a power supply like the DreamStation Power Supply and this power cord to charge the Pilot-12.
Off-Grid? Use the Pilot-12 Lite to Charge a Phone or Tablet!
If a camping trip takes your therapy off-grid, no worries! Keep a mobile device charged and good-to-go, using the Pilot-12 Lite. The battery features a USB connection for cell phones or tablet charging cables.
Manufacturer's Warranty
The manufacturer guarantees the product within 12 months from the date of original purchase, excluding abuse and neglect of the product.
View More

+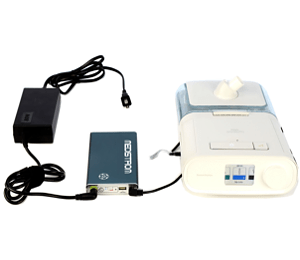 Medistrom Pilot-12 Lite Battery and Back...
---