Take 15% off
your order of $200+ by subscribing!
Join Today!
Home

/

Applied Home Healthcare
Optipillow Nasal Pillow EPAP Mask for Snoring
BY Applied Home Healthcare
Item #1700-5001
---
Order ships today if placed by 4PM CST
Optipillow Nasal Pillow EPAP Mask
Overview
Optipillow is a reusable anti-snoring mask that eliminates the need for tubing, a CPAP machine, or a power source! This Expiratory Positive Airway Pressure (EPAP) mask is ideal for those looking for a simple and effective solution to snoring without a prescription.
OptiPillows Features:
No Prescription Required

FDA Approved

Perfect for Traveling and Camping

Reduces Noise and Irritations from Snoring

Lasts Six to Twelve Months
Perfect for Traveling: Approved for In-Flight Use
Store your OptiPillow EPAP mask easily in your pocket for convenient on-the-go use. The OptiPillow anti-snoring device does not require electricity, tubes, or a CPAP machine, making it a great match for jet setters or campers.
Reduces Noise and Irritations from Snoring
Using your exhaled breath, the OptiPillow EPAP mask redirects the air through the valve to help keep your upper airways open and prevent snoring. Since the only pressure comes from your exhaled air, this EPAP mask is able to cut down on noises that come from traditional nasal pillow masks, giving you a more comfortable and quiet night.
Long Lasting: Six to Twelve Months
OptiPillows are designed to be durable, and when well-cared-for, they can last up to a year! Your OptiPillow only requires light cleaning to keep it in tip-top shape.
What's Included in the Box:
Headgear

Plastic Valve

3 Sizes of OptiPillow Nasal Pillows

Storage Bag

Instruction Sheet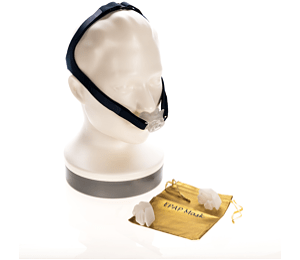 Optipillow Nasal Pillow EPAP Mask for Sn...
---