Home

/

Pad A Cheek
Pad A Cheek Pads for Swift FX™ Bella Loops
BY Pad A Cheek
Item #104-BELLA-00
---
Order ships today if placed by 4PM CST
Need replacement parts & accessories?
Shop Now
This is one set of Pad A Cheek Pads for Swift FX™ Bella Loops. It includes a pair of Bella Cheek Pads and a pair of Ear Loop Protectors.
The Cheek Pads are made of soft and cozy, deep blue fleece fabric. They cover the clip that attaches to the Swift FX™ mask frame holding the Bella loop ends and extends up the cheek to protect and cushion the cheek.
The Ear Loop Protectors are made of very thin and soft, white brushed fabric, closing with an ultra thin Velcro strip. They cover the Bella Loop strap, cushioning the back side of the ear.
Measurements:
Bell Cheek Pad
2 inches tapering to 1 inch wide by 3 inches long
Ear Loop Protector
Open and flat - 1 1/2 inches wide by 4 inches long
Folded on loop - 3/4 inch wide by 4 inches long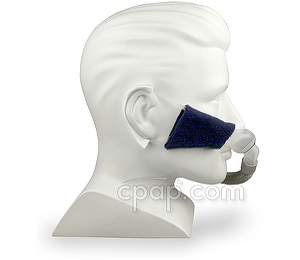 Pad A Cheek Pads for Swift FX™ Bella Loo...