Take 15% off
your order of $200+ by subscribing!
Join Today!
Home

/

Pad A Cheek
Pad-A-Cheek Strap Covers for AirFit P10
BY Pad A Cheek
Item #109-AFP10-00
---
Order ships today if placed by 4PM CST
Need replacement parts & accessories?
Shop Now
Pad-A-Cheek Strap Covers for AirFit P10
Overview
Helps Reduce Red Marks & Irritation
Red marks and irritation are two common problems with CPAP therapy that can happen to anyone. Despite the best efforts of CPAP mask manufacturers, sometimes headgear can dig into the skin, creating painful indentations and leaving marks that linger for hours after therapy. That's where the Pad-a-Cheek Strap Pads for the AirFit P10 can help!
Strap pads are designed to provide extra cushion to the headgear straps of the AirFit™ P10. This is designed to prevent the headgear from cutting into the sides of your cheeks while making the straps more comfortable to wear.
Uses Velcro to Strap Into Place
The Pad-a-Cheek Strap Pads for the AirFit™ P10 use velcro to create a cradle around the mask pads themselves, reducing the likelihood that your cheeks will be affected by the tightness of your headgear.
Helps Make Therapy More Comfortable
If you aren't comfortable when using your CPAP machine, you'll be less likely to stick with it. That's why it's important to give yourself every advantage when it comes to making your therapy comfortable. Investing in headgear strap covers will make it easier to stick with your therapy long-term, by making your therapy more comfortable. This will allow you to reap the benefits of CPAP therapy, including having more energy, increased stamina, and reduced brain fog.
Designed for the AirFit™ P10 and the AirFit™ P10 for Her
These soft fabric mask pads are designed exclusively for the AirFit™ P10 and the AirFit P10 for Her, and conform to the unique shape of the headgear. Intended for removing much of the discomfort from the P10, these fabric wraps will be useful to anyone looking to give their therapy experience an upgrade.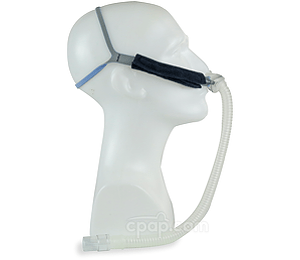 Pad-A-Cheek Strap Covers for AirFit P10
---