Home

/

PMI Probasics
Replacement Cushion for Zzz-Mask Full Face CPAP Mask - Detachable Cushion Model
BY PMI Probasics
Item #780S
---
Order ships today if placed by 4PM CST
Zzz-Mask Full Face Cushion
Overview
This is the replacement cushion and frame for the detachable cushion model of the Original Zzz-Mask Full Face. It is made from a soft medical grade silicone, the cushion is designed to be comfortable, durable, and flexible.
This package includes the cushion only. The elbow, frame and headgear are not included.
This cushion works with the original, detachable cushion model Zzz-Mask Full Face CPAP Mask with Headgear. Be aware, for a time the cushion for the Zzz-Mask Full Face COULD NOT be not detached. This replacement cushion will not work with that version of mask.

Cushion and Frame Versions

NOTE: The Zzz-Mask Full Face has been produced in two forms.
The original Zzz-Mask Full Face used two prongs that pushed through the detachable silicone cushion to secure its position. It was a detachable cushion which does not have a hard plastic bar inside the cushion just above the elbow.
Non-detachable cushion in with the cushion and frame are permanently attached and cannot be separated. This cushion has a clear plastic bar on the inside of the cushion running from one side of the cushion to the other.
Please contact customer service if you are unsure which model you currently use or you can use this chart:
Zzz-Mask Full Face CPAP Mask Improvement Chart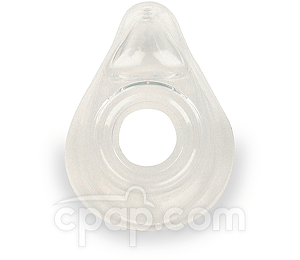 Replacement Cushion for Zzz-Mask Full Fa...
---