Home

/

ResMed
ResMed Zippered Tubing Wrap
---
Order ships today if placed by 4PM CST
ResMed Zippered CPAP Tubing Wrap
Overview
Zippered Tubing Wrap by ResMed is a durable combination of nylon and polyester designed to insulate a CPAP hose and help prevent rainout. The Zippered Tubing Wrap is made to fit any standard 6 foot hose or thinner hoses such as the SlimLine™. Just unzip the wrap, place the hose inside and zip it back up, that is it!
The Zippered Tubing Wrap from ResMed is intended to provide comfort while helping to eliminate the build-up of condensation in the hose. The wrap is compatible with both standard and SlimLine™ hoses.
Pleasant Aesthetics
ResMed's Tubing Wrap has a unique hidden zipper sewn into the side of the wrap using the same royal blue color. This design creates a clean look for the wrap which is intended to be more pleasing to the eye than a non-covered hose.
Durable Materials
Nylon, polyester, and velcro are used to produce the ResMed Tubing Wrap. These materials allow for a manageable and pliable product, while providing durability and strength. The thickness of the fabric exterior protects the hose as it rests inside the wrap.
Compatible with Most Hoses
The long, two meter Tubing Wrap from ResMed can accommodate both 19mm inner diameter hoses as well as 15mm inner diameter hoses. Also, the wrap is 78 inches long and will cover a 72 inch or 6 foot standard and slim hose. To make the wrap the right proportion for a 6 foot hose, fold the excess material backward, leaving the rubber end exposed. Use the exposed rubber end to connect the hose to the CPAP machine. Refer to the last image on this product page for further details.
To find a wrap specifically designed for 15mm hoses, visit the ResMed Tubing Wrap for AirSense™ 10, AirCurve™ 10, and S9 Series SlimLine™ Tubing product page.
This product is the tubing wrap only. It does not include the hose.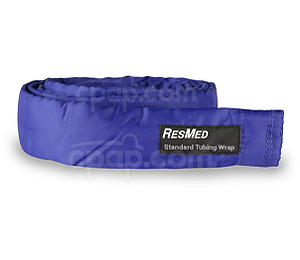 ResMed Zippered Tubing Wrap
---