Take 15% off
your order of $200+ by subscribing!
Join Today!
Home

/

Philips Respironics
ComfortGel Blue Cushion for ComfortGel Nasal CPAP Masks
BY Philips Respironics
Item #1070104
---
Order ships today if placed by 4PM CST
ComfortGel Nasal Cushion
Overview
The gel-filled cushion conforms around the nose and uses the SST flap to create a consistent seal all night. The gel technology allows for a greater variety in facial features such as facial hair.
This is a new, alternative gel cushion that fits on the ComfortGel and ComfortGel Blue Nasal Masks. There are three (3) different frame sizes for the ComfortGel. Only sizes Small and Medium cushions fit onto the same frame. (see Important Tips for more help when selecting your size)
The
SST Flap for ComfortGel Blue Nasal CPAP Mask
is sold separately or as part of a package
ComfortGel Blue Cushion and SST Flap for ComfortGel Nasal CPAP Masks
.
Improved Gel Cushion Technology.
The ComfortGel Blue continues to use a dual, gel cushion and silicone flap system. Respironics has improved the ComfortGel material. The gel is now softer and conforms to your face with greater ease. Use the separate silicone membrane that snaps on, over the gel cushion, to increase the life of the cushion and provides a unique Sure Seal Technology (SST), contouring a seal around the Gel Cushion.
System One Resistance Control.
Respironics wanted a machine to achieve optimal pressure no matter which mask is used. Resistance Control is the solution, a numbering system on all of Respironics CPAP masks based on variable resistance characteristics. Each number instructs the device to compensate for different mask types. The result? A consistent and reliable pressure enhanced with all the benefits of Flex Technology no matter which mask is used.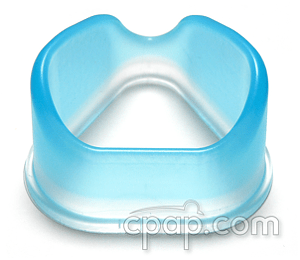 ComfortGel Blue Cushion for ComfortGel N...
---