Home

/

SnuggleHose
Zippered SnuggleHose Cover (For 6 Foot Hose)
BY SnuggleHose
Item #zip6ft MedBlue B-4
---
Order ships today if placed by 4PM CST
Zippered SnuggleHose (For 6 Foot Hose)
Overview
Manage your weekly hose cleaning in a zip! All the snuggly comfort in an easy to use format - the Zippered SnuggleHose Cover.
CPAP users love the soft polyester fleece of SnuggleHose. The Zippered SnuggleHose Cover takes that same comfort and makes it easy to put on a 6 foot hose. The Snugglehose unzips lengthwise allowing the hose to be easily inserted or removed. The fine polyester zipper does not run all the way to the ends of the SnuggleHose omitting the frustration often associated with starting a zipper.
Benefits
Easily installed for use and removed for cleaning.
The polyester zipper has very fine teeth used to avoid any touch of metal zipper teeth on the skin.
The zipper pull is small in size and lightweight.
Helps to reduce rainout due to condensation in the hose as the air travels from the machine & humidifier to the mask.
Enhances the appearance of the hose to be less medical looking.
If offers the soft touch of fleece rather than hard plastic.
Increases effectiveness of a heated hose by insulating it from the cooler room temperatures.
Please Note:
The shade of the SnuggleHose may vary slightly from one item to another. This does not affect the function of the Zippered SnuggleHose.
This product is designed to fit a 6 foot CPAP hose. A hose is not included with this purchase.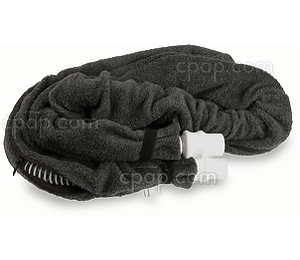 Zippered SnuggleHose Cover (For 6 Foot H...
---