Home

/

SnuggleHose
SnuggleScents Relaxation Pack
BY SnuggleHose
Item #ss-relaxation
---
Order ships today if placed by 4PM CST
Relaxation Pack
Overview
SnuggleScents Relaxation Pack is a collection of essential oils that combat stress, sleeplessness, and anxiety. The Relaxation Pack is ideal for new users struggling to acclimate to CPAP therapy. Each package comes with one 5ml bottle of Chamomile, Lavendin, and Jasmine.
CPAP Aromatherapy might be the solution to help you fall asleep despite being layered down with CPAP equipment. SnuggleScents are a collection of essential oils that deliver soothing aromatherapy through your CPAP machine. Before you settle in for the night, place the wooden stand in front of the air intake of your machine. Then dab the elephant pad with oil and place on the stand. When your machine is turned on it will pull in fragrant air. Now your CPAP will begin incorporating the aromatherapy fragrance with your therapy.
Included in package:
One Wooden Diffuser Tray Stand
Three Disposable Elephant Oil Pads
Three Zip Lock Storage Bags
One 5ml bottle of each Essential oil: Chamomile, Lavendin, and Jasmine.
Chamomile.
Chamomile is useful for combating depression and insomnia. Use Chamomile after a long day, when you feel anxious or have problems with sleeplessness. This slightly sharp and crisp scent is also helpful in counteracting allergies. Chamomile is an ideal fragrance for acclimating children to CPAP therapy. The subtle, softer scent can be more inviting than lavender, which is more noticeable and distinguished. Mix both Chamomile and lavender for your child's own nighttime blend.
Lavendin.
Fall asleep easier and faster to the floral aroma of lavender. Lavandin is a hybrid breed of spike lavender mixed with common English lavender. The resulting oil is aromatic and great for relaxing when dealing with stress. Use lavandin to fight insomnia and quickly fall asleep, then awake with a boost of energy and stamina throughout the day.
Jasmine.
For the perfect ending to a full day, jasmine's exotic floral aroma will reduce anxiety and exhaustion. A natural antidepressant, jasmine oil promotes a feeling of optimism and confidence.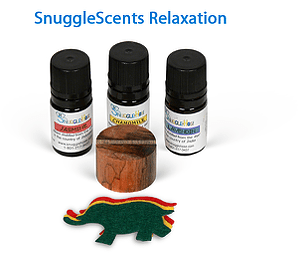 SnuggleScents Relaxation Pack
---