Home

/

Somnetics
Transcend 365 miniCPAP P10 Battery
BY Somnetics
Item #503098
---
Order ships today if placed by 4PM CST
Need replacement parts & accessories?
Shop Now
Product
Overview
Affected by the power outages in California? We're here to help. Give us a call to help make sure you can continue therapy.
This product is not currently available for expedited shipping within the continental U.S. Regular ground shipping will be the only option. Other options may be available for non-continental U.S. residents.
The Transcend P10 Battery is slim and ultra-portable, designed to accommodate the unique power needs of using humidification while not connected to a power outlet. The battery is lightweight and compact. It can be packed with the travel-sized Transcend 365 into a briefcase, purse, or carryon, and be your companion whenever you fly or head out for your next camping trip.
Take the Humidifier with You When Going Off-Grid
The P10 Battery is intended to be used with the humidification system on the Somnetics Transcend 365, so there's no need to disconnect the humidifier when you're not connected to an outlet. This allows you to use real water-based humidification any time, any place, or anywhere! Please note, humidification use while on battery power reduces the overall runtime of the battery.
Use as a Battery Backup
The battery can also be used as a convenient battery backup, powering your Transcend 365 in the event of a power failure or outage. It's smart enough to recognize when outlet power has been cut off— perfect for storm season or other emergencies.
FAA Compliant for In-Flight Use
Take your therapy to the skies with the Transcend P10 Battery! It's FAA compliant for in-flight use, meaning you can take it through security and use it once airborne.
Designed to Work With Only the Transcend 365
The Transcend P10 Battery is designed to work with only the Transcend 365, and will not work with any other machine. It can be charged using the Transcend 365 Universal AC Power Supply, so an external charger is not required. Plug it in and get to a full charge in time for your next adventure.
Powers Transcend 365 with Humidifier for 5.81 Hours with a Pressure Setting of 12
The Transcend 365 can run for up to 5.81 hours with the humidifier connected on a pressure setting of 12. When not using humidification, you can get up to 26 hours of therapy at the same pressure setting.
Please Note: battery runtimes will be affected by factors like altitude, pressure settings, and humidification settings. The battery will last longer at lower altitudes, lower therapy pressures, and lower humidification settings. Higher pressures, humidification settings, and higher elevations will likewise cause runtimes to be reduced.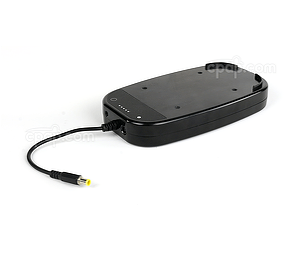 Transcend 365 miniCPAP P10 Battery
---